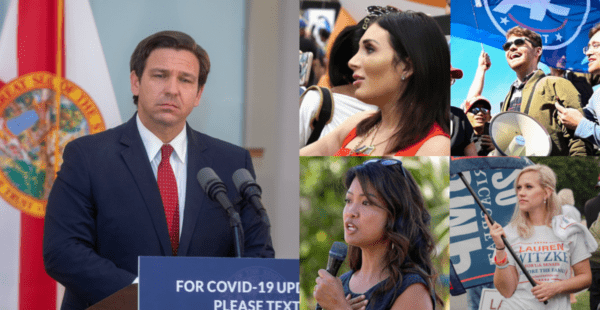 A number of America First commentators, including former Congressional candidate Laura Loomer, and Nick Fuentes, are demanding the proposed Big Tech bills in Florida's legislature be strengthened with various amendments.
Florida Governor Ron DeSantis announced at the start of February a number of actions that would be taken against Big Tech by his administration, with the focus more on how Big Tech censorship and interference would effect elections within the state. As National File reported:
Some of the new regulations include a mandatory opt-out from content filters created by Big Tech companies, which can leave users "shadowbanned" without the need for full platform removal, a right of action for all Floridians against Big Tech companies who violated this, and a number of daily fines related to interference in elections, including a $100,000 daily fine levied for any company that suspends political candidates. DeSantis claimed that the Big Tech companies were the number one threat to democracy and freedom of expression in America.
Fox News's Tucker Carlson remarked that the proposed action plan "really does set the standard for the rest of the country." However, this is what a number of America First commentators currently fear, who argue that the Big Tech bills now put forward in the Florida House and Senate based on DeSantis's plan go nowhere near far enough.
Laura Loomer, the former Florida Congressional candidate who was the first de-platformed candidate in US history, criticized the bills in two key areas. Loomer said that the fines proposed for Big Tech companies were "chump change" for the huge corporations, with the $4.6 million fine that Facebook and Google would have received for censoring her during 2019-2020 campaign only amounting to 0.006% and 0.002% of their 2020 revenues respectively. There is also no evidence to suggest that such fines would happen retroactively regardless.
"Paying a minor fine to prevent a candidate or candidates they don't like from winning an election is a steal of a deal," Loomer said. "In its current form, the wording of this legislation would make things worse for censored candidates, because it would give Big Tech an easy way to interfere with an election with minimal consequences in the form of small fines."
Secondly, Loomer argued, there is no protection for constitutional speech in Florida's Big Tech bills, and only requires the social media platforms to "apply censorship, deplatforming, and shadow banning standards in a consistent manner" among its users. "Sounds nice and all, but Zuckerberg and Dorsey read that as 'Sweet! I can consistently ban conservative speech among all of my little users!'" Loomer argued.
Below Is Foundational Information On Some Of The Issues With Big Tech
'Google's China rapproachment has been spearheaded by Pichai, Google's current CEO, a 46-year-old Indian-American who took the helm in October 2015. At a June 2016 conference in southern California, Pichai made his intentions clear. "I care about servicing users globally in every corner. Google is for everyone," he said. "We want to be in China serving Chinese users."' Google Employees have been warning us about China and Google under Pichai, for years. The censorship chickens have been coming home to roost ever since. Say hello to Dragonfly.
DRAGONFLY HAS COME TO AMERICA
Wondering Why Censorship Has Increased In America? Dragonfly, Censorship Through Algorithms and Human Surveillance, Has Landed Across All Platforms. "Many of us accepted employment at Google with the company's values in mind, including its previous position on Chinese censorship and surveillance, and an understanding that Google was a company willing to place its values above its profits. After a year of disappointments including Project Maven, Dragonfly, and Google's support for abusers, we no longer believe this is the case. This is why we're taking a stand."
FACEBOOK USERS ARE 'DUMB FUCKS'
~ Mark Zuckerberg
'In another exchange leaked to Silicon Alley Insider, Zuckerberg explained to a friend that his control of Facebook gave him access to any information he wanted on any Harvard student:
Zuck: yea so if you ever need info about anyone at harvard
Zuck: just ask
Zuck: i have over 4000 emails, pictures, addresses, sns
Friend: what!? how'd you manage that one?
Zuck: people just submitted it
Zuck: i don't know why
Zuck: they "trust me"
Zuck: dumb fucks'