Good, solid information is the best resource that the public can use. Primary sources when possible and good discussions and studies when informative.
A CBS 62 weather reporter, April Moss, said live on the air that she will expose the network for alleged "discrimination that CBS is enforcing" on its employees and will provide material to whistleblower platform Project Veritas.
During a Sunday segment on the weather for metro Detroit, where the CBS affiliate station is based, Moss abruptly stopped her normal broadcast and made an announcement.
"And speaking of a brand new week, I will be sitting down this week with Project Veritas to discuss the discrimination that CBS is enforcing upon its employees. Tune into Project Veritas for my full story," she said, without elaborating on the nature of the alleged discrimination.
Following her comment, Moss seamlessly continued on with her weather report.
Project Veritas appeared to endorse Moss's announcement in a tweet on Monday, with Veritas chief of staff Eric Spracklen saying her announcement "takes serious guts." Previously, Project Veritas released secret recordings of CNN staffers who admitted that they skewed their news coverage to oust former President Donald Trump. . . .
Lone wolf killers are likely going to strike and murder innocents more often as a result of the "defund the police" movement, says a former strategic analyst in the Canadian intelligence community.
"Security systems in Canada are being torn in all directions simultaneously and they're understaffed to do what they are being asked to do," Phil Gurski, the president and CEO of Borealis Threat and Risk Consulting, said in an interview.
"If you don't have enough resources, then potentially there will be more of these attacks."
The most recent lone wolf attack in Canada occurred on June 6 in London, Ont., when Nathaniel Veltman jumped the curb with his vehicle and struck a family of five, killing four of them and injuring one. Veltman, 20, is now facing terrorism charges.
Lone wolf, or lone-actor, attacks—in which an individual without formal ties to a terrorist organization goes on a murderous rampage—are considered among the most difficult to prevent, and the most shocking.
According to the Canadian Network for Research on Terrorism, Security, and Society, since the 9/11 attacks in New York there have been several high-profile lone-actor terrorist attacks in Canada, the United States, France, New Zealand, Norway, the United Kingdom, and other countries.
Terrorism experts Mark S. Hamm and Ramón Spaaij, authors of "The Age of Lone Wolf Terrorism," have documented 216 attacks by 83 lone wolves in the United States alone between 1940 and 2013.
Their research reveals a chilling fact: Lone wolves are striking more often. . . .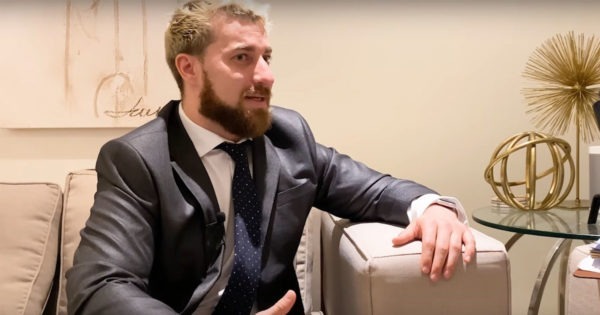 Livestreamer Anthime "Baked Alaska" Gionet revealed during an interview with Milo Yiannopoulos on Monday that federal agents have attempted to force him to cooperate with their persecution of Jan. 6 defendants by leveraging the threat of an "obstruction of Congress" felony charge over his head.
"I walked through an open door [at the Capitol], and that's crazy because they're trying to charge me with trespassing and disorderly conduct," Gionet said. "And now, the feds are threatening to slap me with a felony if I don't cooperate with them, and I'm not even sure what that really means."
READ MORE: Beattie Responds To 'Dirtbag' Smear By CNN's Cuomo Over Revolver's 1/6 Report, Mocks 'Titty Ring Brother' And 'Disgraced Father'
"So just so that I understand this clearly, and people understand at home, they're saying that if you don't cooperate with the investigation, meaning you don't become an informant, meaning you don't give the names of the people that you were with, meaning you don't assist them in jailing other Trump supporters, that they're going to add charges if you don't cooperate?" Yiannopoulos queried.
Gionet nodded. "That's right, a felony," he said, adding that the FBI had communicated their demands for him to "cooperate" to his attorney.
The popular livestreamer went on to describe the conditions in the solitary confinement cell he was placed in earlier this year as "like hell," with no room to walk and roaches infesting the cell. Gionet noted that his treatment was similar to that of international terrorists, despite having not committed any terroristic acts. A judge has also revoked his Second Amendment rights to own a firearm, and he has been placed on a "high security' airport watchlist.
READ MORE: Tucker Carlson Slams FBI Over 1/6 Involvement For Second Night In A Row, Thanks Twitter For Proving His Point
Reporting by Revolver News on unindicted co-conspirators and FBI informants composing a key part of the ongoing federal investigation were hastily "debunked" by corporate media and Twitter moderators, but the shoddy debunking quickly fell apart under its own inefficacy.
Medicaid enrollment rose sharply during the pandemic, with nearly 10 million Americans joining the public health program for the poor, a government report released Monday showed.
Eighty million people were covered under Medicaid, a record. It reflected an increase of nearly 14 percent over the 12-month period ending Jan. 31. The figure also includes enrollment in the Children's Health Insurance Program, which covers children whose parents earn too much for Medicaid, but too little to afford other coverage.
The spike in enrollment demonstrates Medicaid's increasingly important role not just as a safety net, but also as a pillar of the American health system, with fully a quarter of the population getting coverage through it.
"This tells us that Medicaid is a critical program for American families," said Chiquita Brooks-LaSure, the Biden administration official who oversees Medicaid. "What we've seen during this pandemic is that people want access to affordable health insurance, and how important it is during a public health crisis."
California on Friday rolled out a new system that enables people to obtain proof of COVID-19 vaccination from the state's health system and present it as proof of having gotten a jab.
"We're better enabling California to verify their vaccination status to ensure our state is in a better position to encourage the best practices for reducing the spread of COVID-19," California State Epidemiologist Dr. Erica Pan told reporters on a call.
The vaccine verification system, dubbed a "digital vaccine record," will require people to enter several details like their name and date of birth to get a digital copy of their vaccination record. If their record is found, they will get a link that they can use to access their vaccination information, including the date or dates they received doses and a QR code confirming their record is authentic.
It's the same information that people see on the paper card that many receive when they get a vaccine, but authorities are recommending the vaccinated keep their paper cards in a safe and secure location and use the digital pass instead.
Over 23.5 million people in California have received a COVID-19 vaccine, according to state data. Whoever administers a vaccine in the state reports details of the recipient to state authorities. Over 90 percent of the people who have been vaccinated chose to give state authorities their contact information. . . .
The CEO of one of the largest U.S. gun manufacturers, Smith & Wesson, said that the current ammunition shortage is showing no signs of improving amid reports of Americans continuing to purchase record amounts of firearms.
Over the past year or so, according to FBI data, gun sales in the United States have skyrocketed amid uncertainty surrounding COVID-19, Black Lives Matter demonstrations and violence, and Democrat officials' proposals for more state and federal gun-control measures.
"It's widely known the ammunition shortages continue," said Smith & Wesson CEO Mark Smith in a Fox Business interview on Thursday. "There is still a lot of interest in firearms."
He noted that Smith & Wesson shipped nearly 2.5 million units last year, up 70 percent from the previous year.
A firearms market research firm, in a report released late last month, found that about 80 percent of American customers said they experienced issues trying to find ammunition in 2020. . . .
Unvaccinated cadets at the US Military Academy at West Point are getting singled out, bullied and unfairly punished — even if they have COVID-19 immunity from earlier infections, according to a report.
All but around three dozen of the 4,500 students at the centuries-old New York training academy have been vaccinated — with a spreadsheet showing the cadets' status getting widely circulated, Fox News said.
Those not vaccinated are derided as "diseased" and "dirty" and treated as outcasts — and punished for violating mask and social distancing mandates, even after statewide restrictions have been lifted, cadets and their families told Sean Hannity.
Some cadets complain that they are unable to take any leave this summer because a seven-day enforced quarantine eats up any available time. . . .
More than 10,000 rock fans gather at Download to enjoy their favourite bands with mosh pits, no social distancing and no need for masks at first festival selected as official test event
Thousands flocked to Donington Park, Derby, for the beginning of the Download pilot festival event on Friday
Around 40 bands will perform over three days on two stages and festival-goers advised not to leave venue
It is the UK's first post-Covid music festival which is being carefully monitored by government scientists
The event is running at a reduced capacity but will not enforce social distancing measures and face masks
A marvelous review in these pages last November inspired me to read a new book by O. Carter Snead, "What It Means to Be Human: The Case for the Body in Human Bioethics." It was published by Harvard University Press on Oct. 13. Covid-19 had begun its transformation of American life a few months before, and of course the book made no mention of it.
Yet Mr. Snead's volume helped explain the bizarre and at times perverse response of prosperous Western nations to the pandemic: the long discontinuation of economic life, the belief that pixelated screens can facilitate human relationships, the prohibitions on ordinary social interactions, the fetishization of masks. These policies and practices weren't handed down from the ether by Reason and Science but bore the weight of contemporary assumptions about—to borrow Mr. Snead's title—what it means to be human.
His book isn't about public health but "public bioethics"—the effort to make humane laws and rules for biotechnology and medical care. Mr. Snead's premise and theme is that humans are embodied creatures, not mere wills and intellects. That premise stands in contrast with the dominant modern worldview, which he calls "expressive individualism": the belief that the human self "is not defined by its attachments or networks of relations, but rather by its capacity to choose a future pathway that is revealed by the investigation of its own inner depths of sentiment. . . . Because this self is defined by its capacity to choose, it is associated fundamentally with its will and not its body." . . .
WASHINGTON —
An incredible thing happened this week in Washington — lawmakers passed legislation.
It is no small feat in this highly partisan era that politicians, who cannot agree on a commission to study the deadly Jan. 6 Capitol insurrection or what should go into an infrastructure bill, came together to create a holiday commemorating the moment people in Texas learned the emancipation had finally come.
On Thursday, the nation's first Black vice president, Kamala Harris, spoke ahead of the bill's signing, highlighting the significance of the new holiday and the misconceptions surrounding it.
"Let's be clear about what happened on June 19, 1865. The day we call Juneteenth. Because you see, that day was not the end of slavery in America," she told lawmakers and advocates who have long pushed for the federal recognition. "On that day, the enslaved people of Galveston, Texas learned that they were free …."
Sidney Powell and other attorneys who defended former President Trump's false claims about the 2020 presidential election have been summoned for a sanctions hearing in a Michigan federal court.
On Thursday, U.S. District Judge Linda Parker ordered the attorneys to appear at a hearing on July 6, according to court documents.
Michigan Attorney General Dana Nessel first asked the court to sanction Powell in late January over a lawsuit challenging the 2020 presidential election results in the state.
The suit, King v. Whitmer, which was filed in November, alleged that President Biden's victory in the state was the result of fraud. The plaintiffs asked the state's electors to be disqualified in favor of declaring Trump the winner of the election.
Parker sided with the state about a month later, writing in an opinion that the relief being sought "would disenfranchise the votes of the more than 5.5 million Michigan citizens who, with dignity, hope, and a promise of a voice, participated in the 2020 General Election."
Nessel also asked the court to sanction Greg Rohl, Scott Hagerstrom and Stefanie Junttila. 
Nessel later filed court documents in April to bring forward claims Powell made in a $1.3 billion lawsuit brought against her by voting technology company Dominion Voting Systems.
The attorney general said in a statement at the time that Powell admitted that no reasonable person would have concluded her statements were fact. . . .
Dozens of women have sued Pornhub, alleging that it posted and profited from videos depicting sex trafficking, child sexual exploitation and other non-consensual sexual content.
The complaint filed Thursday targets Pornhub's parent company, MindGeek, for allegedly being a "classic criminal enterprise" and allowing the monetization of non-consensual sexual content. Brown Rudnick LLP filed a civil complaint on behalf of 34 victims of sexual exploitation who seek damages and protection, according to CNN Business.
"This is a case about rape, not pornography," the complaint reads. "And it is a case about each of these defendants knowingly and intentionally electing to capitalize and profit from the horrendous exploitation and abuse of tens of thousands of other human beings so they could make more than the enormous sums of money they would have otherwise made anyway."
The complaint lists just one of the defendants — a woman named Serena Fleites — while the other 33 remain anonymous. . . .
Phill Kline – Audits and reports in GA show wide ranging chaos and fraud in 2020 election.
Garland Favorito, a Georgia voter and plaintiff, gives The Real Story on new evidence and documentation of missing ballots from the 2020 presidential election.
Dr. Kelli Ward, Arizona's GOP Chairwoman, gives Sophie Mann an update on the Maricopa County 2020 Election Audit. She says that "the hand counting was completed yesterday," and they are working now on verifying the legitimacy of the ballots.
As anti-police riots continue to plague Portland, Oregon, and the crime rate shoots up, the police department is having a hard time holding onto officers.
Sidney Powell: I saw prosecutors make up crimes by piecing parts of two different statutes together and hide evidence that showed people were innocent. Federal prosecutors are absolutely corrupt.
Soy Boy Reporter Tries To Attack Mike Lindell And Gets Owned.
The European Commission on June 14 formally signed legislation to create the EU Digital COVID Certificate. The regulation will take effect July 1 and expire in 12 months.
Member States are required to start issuing the first certificates within six weeks of the July 1 start date, if they haven't done so by then.
During the official signing ceremony, three main EU institutions — Parliament, the Council and the Commission — signed the regulation to show their support, asserting the certificate is "a symbol of what Europe stands for."
Bulgaria, Czechia, Denmark, Germany, Greece, Croatia and Poland started issuing the first passports on June 1. Austria, Estonia, Latvia, Lithuania, Luxembourg and Spain began issuing passports days later.
The remainder of the EU and Schengen Area countries, except for Hungary and Finland which are still in the test phase, are expected to connect to the new technology framework.
How the EU passport works
Under the vaccine passport scheme, each EU Member State will issue its own certificate, but all will adopt the same entry requirements for visitors.
Individuals will obtain their passports through test centers or health authorities, or directly via an eHealth portal.
The digital version of the certificate can be stored on a mobile device. Citizens can also request a paper version. Both will have a QR code that contains essential information, as well as a digital signature to make sure the certificate is authentic.
The Digital COVID Certificate will show that a person has been vaccinated against COVID-19, received a negative test result or recovered from the virus.
The certificate information differs based on the vaccination status of users. For those who have received their shot, the vaccine manufacture, date of vaccination and the number of doses will be documented.
For those who have not yet been vaccinated, Member States require PCR or antigen test results be provided when traveling between countries. The passport will record the "type of test, date and exact time of test, name of the test centre and the results."
The stated intent of the Digital COVID Certificate is to allow people to move between EU countries without having to quarantine or undergo extra coronavirus tests. However, according to the regulation, member states can impose extra travel restrictions in cases where "additional measures are a must in order to safeguard the public health."
What about travelers from outside the U.S.?
Earlier this month, an EU spokesperson said the app could be extended to citizens from non-EU countries, including U.S. Americans who obtain the certificate would be exempt from travel restrictions and quarantine requirements.
"Right now if you're an American, not living in the EU, you could get the certificate if you ask the national authorities of a member state to give you that certificate based on some proof that you've been vaccinated, or had a recent COVID test," said the EU spokesperson.
The decision on whether to allow non-EU citizens to use the app rests with each individual member state.
Why U.S. won't have national vaccine passport anytime soon
A fierce debate has kicked off across the U.S. over whether a digital health certificate or "vaccine passports" should be required to prove vaccine status, The New York Times reported.
So far, the Biden administration has resisted the idea of a "vaccine passport" for the U.S. On May 28, U.S. Director of Homeland Security (DHS) Alejandro Mayorkas said the U.S. was taking a "very close look" at vaccine passports for international travel. Later that day, the DHS clarified there will be no "federal mandate" for vaccine passports in the U.S.
According to the Los Angeles Times, the U.S. does not have a national database for immunization records that could act as the source of vaccination data for use in digital passes. That's because a national system to create a unique identification number to link the health records of every American has been banned since 1998, spearheaded by then-Rep. Ron Paul (R-Texas), who said such a system would be an unwarranted privacy intrusion.
An attempt to overturn the ban passed the U.S. House in 2019, but was rejected by the Senate.
In the absence of a federal policy, Americans could need several digital passes, similar to having many credit cards in a wallet, The Los Angeles Times reported. It could also mean employers, businesses and venue operators will each have to decide which option works for them — or might not bother using any at all.
A growing number of businesses — from cruise lines to sports venues — have already said they will require proof of vaccinations for entry or services.
Hundreds of digital health pass initiatives are attempting to launch apps that provide a verified electronic record of immunizations and negative COVID test results to streamline the process for businesses and other institutions.
States take a stand
The issue has sparked debate in the U.S., and led a number of states to introduce legislation to curtail or ban vaccine passports due to privacy, equity, liberty and accountability concerns.
These states include Florida, Texas, Missouri, Utah, Arizona, Arkansas, Montana, Indiana, Iowa, Alaska, Alabama, South Carolina, North Dakota, South Dakota, Georgia, Wyoming and Idaho.
So far,  vaccine passports have been implemented in two states — New York and Hawaii.
New York implemented the "Excelsior Pass" — an electronic proof of vaccination developed by IBM — that some businesses in the state are requiring for entry.
According to The New York Times, the state plans to expand the program — estimated to cost taxpayers $17 million — possibly using the system in the future to verify a resident's age, driver's license status and other health records.
In Hawaii, fully vaccinated individuals who upload proof of vaccination to the state's "Safe Travels" system are allowed to travel inter-county without pre-travel testing or quarantine restrictions. Gov. David Ige said he is targeting July 4 for allowing vaccinated out-of-state travelers who come into Hawaii to bypass restrictions through a similar system.
Beginning June 15, Hawaii will expand its passport program to trans-Pacific travelers who have been vaccinated in Hawaii.
Late last week, California Gov. Gavin Newsom announced his state will roll out a new vaccine verification system for private businesses.
During an event in San Francisco on June 14, Newsom said the system will consist of electronic vaccine cards that individuals can keep on their phones as opposed to carrying around a paper card.
Once the state fully reopens without capacity limits, which happened Tuesday, businesses can require individuals to show their vaccine cards to prove they do not need to wear a mask, SFGATE reported. Newsom will announce California's version of this electronic system later this week.
In all of the new or proposed digital passes or apps in the U.S., people who have been vaccinated or received a negative test result must first consent to have their information uploaded into the pass or app, the Los Angeles Times reported.
Outside the EU and U.S., Australia earlier this month rolled out a digital proof of vaccination certificate, and Japan plans to issue one as soon as this summer.
A total of eight people were killed, the most homicides in a single day in Chicago this year.
Twenty-six people were hit by gunfire in Chicago Tuesday, one of the most violent days of the year with eight shot in a house in Englewood and five wounded on the street in West Garfield Park.
A total of eight people were killed, the most homicides in a single day this year, according to Sun-Times data.
The day also saw the city's third mass shooting in little more than a week. Around 5:40 a.m., four people were shot and killed and four others were seriously wounded when an argument apparently broke out inside a home in the 6200 block of South Morgan Street, according to Chicago police.
Four people were pronounced dead at the scene, three women and a man who lived there. The four others were taken to hospitals, at least two of them in critical condition. A 2-year-old girl was taken from the home and brought to Comer Children's Hospital for observation, but did not appear injured, police said. . . .
Peter Andre apologises for YouTube video showing daughter Princess fulfilling 'dream' of swimming with dolphins – after PETA highlights misery of mammals kept in captivity for tourism
Video on The Andres YouTube channel featured an emotional Princess Andre, 13, discussing her bucket list dream of swimming with dolphins
Clip showed the teen gliding through water holding on to fins of two dolphins
PETA wrote to Peter, 48, highlighting poor conditions mammals can be kept in
He vowed to re-edit the video and remove any reference to swimming with dolphins from his social media channels, saying 'we live and learn'
A Virginia Lyft driver has been charged after he allegedly sexually assaulted a teen passenger during a Monday ride, according to a local report.
The incident unfolded Monday when the 17-year-old unidentified male victim took a Lyft ride from 58-year-old Ejaz Hussain to school in the morning, Fox 5 reported. While on the way to school, the victim and Hussain reportedly gave each other their contact information.
The victim later called Hussain directly for a ride from school to home, according to the report. While in the vehicle, Hussain allegedly sexually assaulted the victim, Fox 5 reported. . .
Kennedé Wallace, the 2019 Miss Juneteenth for Austin, Texas, earlier this month. "You never know when you're going to have to put your crown on and be the queen of the moment, she said. "It gives you all the light, and you have to be prepared for that."Credit…Cindy Elizabeth for The New York Times
For contestants, it's a pageant, yes, but also a place to celebrate Black sisterhood and promote a deeper understanding of a complex holiday. . . . Juneteenth, or Freedom Day, is rooted in emancipation for the enslaved, so it involves both the celebration of joy and the commemoration of pain. June 19 marks the anniversary of the day in 1865 when news of the Emancipation Proclamation reached Galveston, Texas — nearly two years after the Proclamation had been issued. African Americans, beginning in Texas, have celebrated the holiday since 1866. . . .
Don't let the rocket hatch hit you where the good lord split you, Jeff Bezos!
That's the message from the 10,000 — and counting — haters who've signed a petition calling for the billionaire Amazon.com founder and former CEO to be denied re-entry to Earth following his upcoming space launch on July 20, according to Change.org.
Bezos, the world's second richest man with a net worth of approximately $186 billion, "is actually Lex Luthor," the petition alleges. "He's actually an evil overlord hellbent on global domination. We've known this for years."
The author of the petition also claims that Bezos, 57, has "worked with the Epsteins and the Knights Templar, as well as the Free Masons to gain control over the whole world."
"Meanwhile our government stands by and lets it happen," they conclude. "This may be our last chance before they enable the 5G microchips and perform a mass takeover." . . .
The Afghan authorities must investigate and bring to justice the perpetrators of a brutal series of attacks amounting to war crimes that have killed at least 24 civilians in little over a week, said Amnesty International.
On 15 June, five health workers were killed and four others injured after gunmen opened fire at various polio vaccination centres across the city of Jalalabad in Nangarhar province. The incident comes shortly after two car bombs killed at least seven civilians and injured at least six others in a district of Western Kabul largely populated by members of the persecuted Hazara minority on 12 June.
"The targeting of civilians with near total impunity continues unabated. While peace talks falter and preparations for the full withdrawal of international forces gathers pace, it's Afghanistan's civilians who are paying the brutal price of this conflict," said Samira Hamidi, Amnesty International's South Asia Campaigner.
"The Afghan authorities must end this cycle of impunity by launching independent and effective investigations into these and other attacks on civilians and bring those responsible to justice. We urge all parties to the conflict to take all measures necessary to protect civilians and respect international humanitarian law. And we call on the international community to make the protection of civilians and of minorities a central component of their ongoing support of the peace process."
The incidents this week follow the killing of 10 mine clearers, many of whom were Hazara, working for the international humanitarian organization The Halo Trust in Baghlan province on 8 June, in an attack that injured 16 others.
Health workers, humanitarians, human rights defenders and journalists have been particularly targeted in a wave of assassinations since the start of peace talks in Doha last year. At least 24 have been killed since January 2021, including two doctors in separate attacks in Parwan and Farah provinces in the past week. With the exception of one of the killings, no other investigations have taken place, and nobody has been brought to justice in any of the cases.
This week's attack on the polio vaccination centres in Jalalabad, which caused the vaccination drive to be suspended in Eastern Afghanistan, follows a similar attack in March which left three health workers in Nangarhar dead. Afghanistan and Pakistan are the only two countries in the world where polio remains endemic.
"In recent months we have seen appalling attacks on schoolchildren, health workers, humanitarians and other civilians in busy streets and markets. Deliberately attacking medical personnel, humanitarian workers and other civilians are war crimes," said Samira Hamidi. . . .
Source: AP Photo/Wally Santana, File
In response to China's increasingly powerful blue-water navy and deployment of long-range "carrier killer" anti-ship ballistic missiles, the U.S. Army has developed a suite of weapons designed to destroy or suppress Chinese targets from very long ranges, and do so quickly and precisely while reducing the threat these Chinese weapons pose to vital Navy and Air Force offensive weaponry.

The commander of U.S. Indo-Pacific Command, Navy Admiral Philip Davidson, recently told the Senate Armed Services Committee he likes the Army's idea.

When Sen. Tom Cotton (R-Ark.) posed a question about China's disruptive military power in the western Pacific, Davidson replied, "A wider base of long-range precision fires … enabled by all our terrestrial forces — not just sea and air, but by land forces as well — is critically important to stabilizing what is becoming a more unstable environment in the western Pacific … Long-range precision fires delivered by the ground force, I think, are critically important." . . .
Tuesday on Fox News Channel's "Hannity," Gov. Ron DeSantis (R-FL) explained why his state was rejecting vaccine passports as a policy in the wake of the heights of the COVID-19 pandemic.
Osama Bin Laden's niece Noor Bin Laden made an appearance outside the Putin-Biden Summit in Switzerland today.
Osama Bin Laden's niec Noor Bin Laden made an appearance outside the Putin-Biden Summit in Switzerland today.
Noor Bin Laden, a Trump supporter, flashed a large "Trump Won" banner from her boat.
Switzerland does not want the world to see this @CitizenAnalyst @based_helvetia1 @JamesBeaurega18 @NickFCerutti pic.twitter.com/36DPsiJmtl

— Noor Bin Ladin (@NoorBinLadin) June 15, 2021
Before the police came pic.twitter.com/zkUAsXCiKS

— Noor Bin Ladin (@NoorBinLadin) June 15, 2021
— Noor Bin Ladin (@NoorBinLadin) June 15, 2021
Data from the IRS and other sources shows that America's richest men are often paying the lowest taxes percentage-wise, with high-tax advocates like Warren Buffett at the top of the tax-avoidance list.
In 2007, Jeff Bezos – who is now the richest man in the world but even then was a multibillionaire – did not pay a single penny of federal income tax. In 2011, Bezos paid no taxes again. Elon Musk, the founder of Tesla and the third-richest man worldwide, did not pay any federal income taxes in 2018. Michael Bloomberg, Carl Icahn, and George Soros all managed to pay zero percent federal income taxes, with Soros managing the feat for three years in a row. . . .
On June 19, NMAAHC will honor the end of slavery in the U.S. with events featuring Annette Gordon-Reed, Adrian Miller and more.
On June 19, 1865, Union troops arrived in Galveston, Texas, and freed the roughly 250,000 enslaved people living in the Southern state. Taking place a full two and a half years after President Abraham Lincoln signed the Emancipation Proclamation, the day—known as Juneteenth—marked the end of slavery in the United States. . . .
Amazon.com Inc.'s planned new Africa headquarters in Cape Town is to draw demonstrations Wednesday as indigenous people protest its construction on a heritage site.
A march will take place between a central museum and a statue of 17th-century colonialist Jan van Riebeeck in opposition to the project, which was announced in April as part of a 4 billion-rand ($291 million) mixed-use development on the outskirts of the South African parliamentary capital.
While the City of Cape Town — which approved the site — has said the move will create thousands of jobs and give a boost to the Covid-19-ravaged economy, the plan quickly drew criticism from members of the Khoisan people, the original settlers on the land. There are now 50,000 objections from various parties, according to Tauriq Jenkins of the Goringhaicona Khoena Council, a Khoi traditional group.
Opposition is based on "environmental and heritage grounds," he said, citing the floodplain location and the site of early battles between his people and Portuguese settlers more than 500 years ago. . . .
[ Bloomberg ]
Mike Lindell of MyPillow.com has more evidence of funny business connected with the 2020 election — an explosive new film debut's tomorrow at LindellTV.com — plus introduces his newest idea: FrankSpeech.com.
With the DART mission, scientists try to prepare for Earth's worst catastrophe.
In March 1989, an asteroid measuring half a mile wide careened past Earth at 46,000 miles per hour. When it crossed Earth's orbit, it was only 425,000 miles away—about twice the distance between Earth and the moon and an uncomfortably close shave for an object the size of a football field. If the asteroid had slammed into the planet, it would have punched a hole in Earth's crust with the force of 20,000 hydrogen bombs, excavating a crater between five miles and 10 miles wide and a mile deep. Anything within a 40-mile radius would have been obliterated, and dust flowing into Earth's atmosphere would have cooled regional temperatures enough to affect crop growth, causing localized food shortages. If it had slammed into the ocean instead, millions of people worldwide could have been killed by the ensuing tsunamis
NASA officials deemed the flyby a close call. And, they noted, a larger asteroid would wreak even more havoc, from civilization-rending damage to a mass extinction snuffing out entire branches of life.
The asteroid was later formally named 4581 Asclepius, for the Greek god of healing and medicine. It led to a reckoning over how to safeguard the world from harm. . . .
[ Smithsonian Mag ]
Forty-three people were shot, three of them fatally, over the weekend in Mayor Lori Lightfoot's (D) Chicago. 
Novavax says its Covid vaccine is 90% effective at blocking symptoms of the disease and doses are ready to be rolled out from September
American firm said two-dose jab stopped 100% of people falling severely ill
Trials involved nearly 30,000 participants across 119 sites in US and Mexico
Only 14 people given jab caught Covid, resulting in an overall efficacy of 90.4%
The FBI sent a SWAT team of 20 agents to the home of Hollywood actor Siaka Massaquoi in North Hollywood just before 6 AM on Friday.
The Wray FBI felt it necessary once again to use the full force of the law to arrest a Hollywood actor in a predawn raid for walking into the US Capitol on Jan. 6.
The FBI sent a SWAT team of 20 agents to the home of Hollywood actor Siaka Massaquoi in North Hollywood just before 6 AM on Friday.
The Wray FBI felt it necessary once again to use the full force of the law to arrest a Hollywood actor in a predawn raid for walking into the US Capitol on Jan. 6.
Los Angeles-based Siaka Massaquoi posing with activist Philip Anderson
Los Angeles-based Siaka Massaquoi posing with activist Philip Anderson on Jan. 6. Anderson was viciously beaten by Antifa at an earlier protest.
We now know that 38% of the 800 protesters who entered the US Capitol on January 6th were waved in by Capitol Police at the West Terrace entrance.
Massaquoi is a staunch conservative and Trump supporter who left the Democrat plantation to support President Trump and conservative causes.
Democrats hat this.
The Daily Mail reported:
A Hollywood actor who has appeared in the TV reboot of Lethal Weapon as well as the series S.W.A.T. and NCIS: Los Angeles had his home raided by the FBI last week after he allegedly took part in the January 6 Capitol riot.

Some 20 agents in tactical gear raided the home of Siaka Massaquoi in North Hollywood just before 6am on Friday, the Los Angeles Times reported.

The home that was raided also lists another individual, 42-year-old Brian Burks.

Burks' ex-wife, Luvelle Mendoza, told the Times that her former spouse was briefly detained by authorities. It is unclear if Massaquoi was arrested.

DailyMail.com has reached out to Massaquoi for comment.

Mendoza said that the two young boys that she had with Burks, ages three and seven, were at home at the time of the raid.

'My heart breaks,' Mendoza said.

'They had to see the big guns and I just think, I wasn't there to console them.'

Mendoza said her ex-husband called her at around 6am on the day of the raid and told her he needed to drop off the children.
The post FBI Sends SWAT Team of 20 Agents to Home of Hollywood Actor Who Left Democrat Plantation and Walked into US Capitol on Jan. 6 appeared first on The Gateway Pundit.
A woman was killed and another person was injured after being struck by a car during a protest in Minneapolis' Uptown neighborhood where a Black man was fatally shot earlier this month during an arrest attempt, police said Monday.
Peter Navarro is joined by Jack Posobiec, who wrote the "definitive book" on antifa.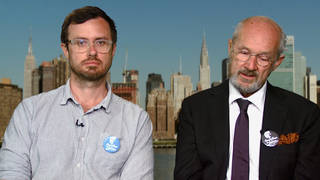 The U.S. State Department is pushing to extradite WikiLeaks founder Julian Assange from Britain, where Biden is now meeting with leaders during the G7 summit. A U.K. judge blocked Assange's extradition in January, citing serious mental health concerns. Assange faces up to 175 years in prison if brought to the U.S., where he was indicted for violations of the Espionage Act related to the publication of classified documents exposing U.S. war crimes. We speak with Assange's father and half-brother, who are on a tour of the United States to advocate for his release. "The G7 meeting is based upon values, and yet they have, just a few kilometers down the road, a foremost journalist in jail," says John Shipton. Assange is a victim of "an abusive process" meant to punish him for his journalism, adds Gabriel Shipton. "The situation there is really dire, and Julian is suffering inside that prison." . . .
New York City mayoral candidate Maya Wiley would not say whether she thinks the U.S. is comparable to the Taliban Thursday, video shows.
Wiley was questioned about Minnesota Democratic Rep. Ilhan Omar's comments comparing the U.S. and Israel to the Taliban and Hamas, video shows. She refused to answer and added that she was proud of her multiple congressional endorsements.

"I am not going to answer this question because I have been, actually, just come out of the debate, I appreciate you asking," Wiley said in the video.
Caught up with mayoral candidate @mayawiley after the democratic mayoral debate asking her reaction to comments from @IlhanMN comparing America and Israel to the taliban, Hamas. Wiley says she's been focused on the mayoral race pic.twitter.com/1kXS75wgce

— Elad Eliahu (@elaadeliahu) June 11, 2021
Wiley was endorsed by Democratic New York Rep. Alexandria Ocasio-Cortez and four other New York Congressional representatives, according to her website. Ocasio-Cortez said she was "pretty sick & tired of the constant vilification, intentional mischaracterization, and public targeting of [Omar] coming from our caucus," in a Tweet Thursday.
Omar received bipartisan criticism after posting a video where she questioned Secretary of State Antony Blinken about U.S. opposition to the International Criminal Court's investigation into alleged war crimes committed in Israel and Afghanistan, NBC News reported.
"We must have the same level of accountability and justice for all victims of crimes against humanity," Omar tweeted Monday. "We have seen unthinkable atrocities committed by the U.S., Hamas, Israel, Afghanistan, and the Taliban."
We must have the same level of accountability and justice for all victims of crimes against humanity.

We have seen unthinkable atrocities committed by the U.S., Hamas, Israel, Afghanistan, and the Taliban.

I asked @SecBlinken where people are supposed to go for justice. pic.twitter.com/tUtxW5cIow

— Rep. Ilhan Omar (@Ilhan) June 7, 2021
Wiley did not respond to the Daily Caller News Foundation's request for comment.
– – –
Kaylee Greenlee is a reporter at Daily Caller News Foundation.
---
Content created by The Daily Caller News Foundation is available without charge to any eligible news publisher that can provide a large audience. For licensing opportunities of our original content, please contact
licensing@dailycallernewsfoundation.org.
---
The post New York Mayoral Candidate Refuses to Answer Whether She Thinks the U.S. Is Comparable to the Taliban appeared first on The Georgia Star News.
A federal judge dismissed the lawsuit waged by more than 100 Houston Methodist hospital system workers seeking to challenge the organization's requirement that workers get vaccinated against COVID-19 as a condition for continued employment. . . .
The Chinese communist regime is trying to subvert the global human rights system to avoid accountability for its sweeping repression of rights within its own borders, according to rights activist Laura Harth.
Harth, the campaign director at Madrid-based nonprofit Safeguard Defenders, said the regime has been active at the Human Rights Council (HRC), the United Nations' highest body for human rights, to remold the norms surrounding U.N. scrutiny of countries' rights records.
"They're proposing this definition: this idea of human rights with Chinese characteristics, with socialist characteristics," Harth told EpochTV's "American Thought Leaders" program. . .
Mayoral hopeful Maya Wiley has been endorsed by Rep. Alexandria Ocasio-Cortez, Public Advocate Jumaane Williams and other fellow Democrats who regularly decry the power of special interests and big money in politics — even though she has for decades been bankrolled by hedge-fund billionaire George Soros.
Soros, the 90-year-old liberal kingmaker often criticized by Republicans and others for his outsize political influence, has ties to Wiley dating back to the 1990s, and recently pumped $500,000 into an independent expenditure group backing Wiley's City Hall campaign, on top of direct donations.
"If we don't come together as a movement, we will get a New York City built by and for billionaires, and we need a city for and by working people," said Ocasio-Cortez, a self-described democratic socialist representing parts of Queens and the Bronx, in endorsing Wiley earlier this month. "So we will vote for Maya #1."
Wiley, a former MSNBC contributor and legal counsel to Mayor Bill de Blasio, tweeted the quote last week in soliciting campaign donations — to further stock a war chest already directly and indirectly aided by Soros. . .
Birmingham TV anchor and veteran newsman Christopher Sign was found dead Saturday morning of an apparent suicide, police said.
After receiving a call at 8:13 a.m., Hoover, Alabama police and fire personnel arrived to find the 45-year-old Sign dead, which Hoover police Lt. Keith Czeskleba said is being investigated as a suicide, AL.com reported.
Sign was a longtime reporter for several local ABC affiliates and had been the evening anchor on ABC 33/40 since 2017.
"Our deepest sympathy is shared with Chris's loving family and close friends," Sinclair Broadcast Group Vice President and General Manager Eric S. Land said. "We have lost a revered colleague whose indelible imprint will serve forever as a hallmark of decency, honesty and journalist integrity. We can only hope to carry on Chris's legacy. May his memory be a blessing."
In June 2016, while he was working as a reporter and morning anchor at ABC affiliate KNXV-TV in Phoenix, Sign broke the story of a secret tarmac meeting that occurred between former President Bill Clinton and then Attorney General Loretta Lynch.
[ The Daily Caller ]
[Post has been updated with Joel R. Kallman's Photo ]
The Oracle engineer who created the APEX System and then worked with the CDC to develop a COVID tracking system died late last month from coronavirus.
Joel Kallman announced he took the vaccine back in March.
The COVID Blog reported–
Mr. Joel Kallman started his career at Oracle in 1996. He was the Senior Director and Vice President of Software Development for the company's Server Technologies Division.  He led the team that created Oracle APEX, an app development platform that streamlines processes by eliminating complex coding and utilizing simple computing architecture.
In March 2020 the Centers For Disease Control (CDC) teamed up with Oracle APEX, under Mr. Kallman's leadership, to create the v-safe After Vaccine Health Checker.
The v-safe after vaccination health checker was created by Oracle developers for the US Centers for Disease Control and Prevention (CDC), using the Oracle APEX low-code development tool, Oracle Analytics, and Oracle Cloud Infrastructure. People who receive a COVID-19 vaccination can register with v-safe to voluntarily report side effects, such as pain or nausea, for the first days, weeks, and months after injection. The CDC can reach out to people who have experienced a concerning adverse reaction to gather more data, and medical professionals use this data to better understand how different patients and populations—particularly at-risk populations—respond to different vaccines.
On March 26, Joel Kallman got his first vaccination shot. He posted about it on Twitter.
Joel Kallman passed away from COVID-19 on May 25th, just two months after receiving his first vaccine for the China virus.
We're heartbroken to share that Joel Kallman has passed away from Covid-19 on May 25th. He was 54.

Joel's warmth and enthusiasm touched countless across the globe. We miss him dearly.

We invite you to share your memories: https://t.co/xTKGi7AAXo#orclapex @joelkallman pic.twitter.com/3kzF4nQxoA

— Oracle APEX (@OracleAPEX) May 27, 2021
The post Oracle Engineer Who Helped Design CDC Coronavirus Tracking System Dies from COVID-19 Two Months After Getting the Vaccine appeared first on The Gateway Pundit.
The Maricopa County audit has come up against "every challenge that could be thrown at it. The Democrats have now tried several rounds of lawsuits against the auditors, which we defended", according to Cyber Ninjas (main auditing firm) Lawyer, Alex The audit is almost complete, with roughly 80% of ballots checked so far. So, what happens […]
The post What Happens if Election Irregularities are Found?; How the AZ Audit was Narrowly Saved appeared first on NTD.
Source: AP Photo/Brynn Anderson
No profession loves themselves like journalists love themselves. After all, they "write the first draft of history." However, as with any writing, history gets its say as well, and story after story in that "first draft of history" is proving to be untrue. It's enough to make you wonder if any story from the Presidency of Donald Trump will stand up to even basic scrutiny in a year?
People get things wrong – we're people, after all, and wildly imperfect. But journalists have gotten so much wrong over the last 4 years it makes you wonder if they got anything right. You name the "scandal" some left-wing outlet reported between 2016 and today about the former President and you will see a story that not only strains credulity, but one that doesn't stand up to basic fact-checking.
Here are a few examples of "bombshell" stories that had "the walls closing in" on Donald Trump that have completely collapsed the second anyone bothered to be the most basic of journalism on them:
Trump called dead Allied soldiers "losers."
Russia "hacked" the 2016 election.
Trump ordered Georgia officials to "find votes."
Hydroxychloroquine has no value and is basically poison that will kill people with COVID.
Trump ignored Russia putting bounties on US soldiers in Afghanistan.
COVID was not from a lab in Wuhan.
Trump ordered the teargassing of "peaceful protesters" so he could have a photo-op.
Trump called neo-Nazis and white supremacists "very fine people."
Donald Trump Jr. got early access to Wikileaks emails.
Russian collusion, etc., etc.
You name the story and the odds that it held up to simple research and reporting is about zero. It makes you wonder why the most basic of reporting wasn't done before they hit the "publish" button. . . .
Opponents of minimum wage laws tend to focus their criticism on one particular adverse consequence: by artificially raising the price of labor, they reduce employment, particularly for the most vulnerable in society.
"Minimum wage laws tragically generate unemployment, especially so among the poorest and least skilled or educated workers," economist Murray Rothbard wrote in 1978. "Because a minimum wage, of course, does not guarantee any worker's employment; it only prohibits, by force of law, anyone from being hired at the wage which would pay his employer to hire him.
Though some economists, such as Paul Krugman, reject Rothbard's claim, a recent study found the overwhelming body of academic research supports the idea that minimum wage laws increase unemployment.
New research, however, shows this is not the only adverse outcome of wage floors.
'When a Higher Minimum Wage Leads to Lower Compensation'
On Thursday the Harvard Business Review published an article under the headline, "Research: When a Higher Minimum Wage Leads to Lower Compensation."
The article explores research conducted by Qiuping Yu (Georgia Tech), Shawn Mankad (Cornell University), and Masha Shunko (University of Washington), which leveraged a highly granular set of scheduling data to measure how changes in the minimum wage affected workers' schedules.
"Specifically, we looked at worker schedule and wage data from 2015 to 2018 for more than 5,000 employees at 45 stores in California — where the minimum wage was $9 in 2015, and has increased every year since then — and at 17 stores in Texas, where the minimum wage was $7.25 for the duration of our study," the researchers said.
The analysis found minimum wage increases had no statistically significant effect on total labor hours at a given store. However, the researchers did find changes in how those hours were allocated to workers.
"For every $1 increase in the minimum wage, we found that the total number of workers scheduled to work each week increased by 27.7%, while the average number of hours each worker worked per week decreased [sic] by 20.8%," the researchers wrote. "For an average store in California, these changes translated into four extra workers per week and five fewer hours per worker per week — which meant that the total wage compensation of an average minimum wage worker in a California store actually fell by 13.6%."
This didn't just result in less overall income for many workers, the authors noted. It also impacted their ability to receive non-wage benefits.
"We found that for every $1 increase in minimum wage, the percentage of workers working more than 20 hours per week (making them eligible for retirement benefits) decreased by 23.0%," the researchers said.
Strategically Reducing Other Forms of Compensation
These findings should come as no surprise. In a 2019 FEE article, economist John Phelan explained four ways employers typically respond to minimum wage hikes. One way was to cut the hours of workers, Phelan noted; another was to cut other forms of remuneration, including benefits like health insurance.
"Simply put, as the minimum wage rises, other elements of worker compensation fall," Phelan wrote.
This is precisely what the new research highlighted by Harvard Business Review found.
"[Our research] suggests that as minimum wage increases, firms may strategically adjust their scheduling practices to reduce the number of workers eligible for benefits," write Yu, Mankad, and Shunko. "Our estimates suggest that the average store in our California data set recouped approximately 27.5% of the increase in its wage costs through savings associated with reducing benefits."
Again, this is not complicated stuff and should come as no surprise. If businesses are forced to increase compensation in one area, they'll seek to reduce it in others to protect their bottom line.
The research also helps explain why some economists (a minority) are less certain that increases in the minimum wage will "substantially" reduce employment and provides an explanation for the few studies that don't show unemployment increasing after minimum wage hikes. Evidence shows employers are finding more creative and productive ways to adjust to minimum wage hikes than simply laying off workers.
The Reality of Tradeoffs
Proponents of increasing the minimum wage have a tendency to believe it is a win-win policy. But economics teaches us that life is always about tradeoffs.
And once again, evidence shows minimum wage hikes come with adverse consequences, which tend to fall on the most vulnerable workers—those with the fewest skills and lowest productivity.
Proponents of minimum wage laws today are making the same mistakes that proponents were making in 1966, when Milton Friedman correctly predicted that a 28 percent national minimum wage increase would negatively impact employment, particularly for teens and minorities.
"Many well-meaning people favor legal minimum-wage rates in the mistaken belief that they help the poor," Friedman wrote. "These people confuse wage rates with wage income."
This was true when Friedman wrote it in 1966. And it's just as true today.
– – –
Jonathan Miltimore is the Managing Editor of FEE.org. His writing/reporting has been the subject of articles in TIME magazine, The Wall Street Journal, CNN, Forbes, Fox News, and the Star Tribune.
---
Appeared at and reprinted from
FEE.org
---
The post Commentary: Minimum Wage Hikes Led to Lower Worker Compensation, New Research Shows appeared first on The Georgia Star News.
An Iowa man was sentenced to 10 years in prison for attacking and coughing on a person who asked him to wear his mask properly.
Shane Wayne Michael, 42, apparently flew into a rage after a man requested that he pull his mask up over his nose in a Des Moines eyewear shop in November, according to local reports.
The victim said Michael followed him to his car, cornered him in the parking lot — and then knocked him to the ground, gouged his eye and kneed him in the groin, according to The Iowa Capital Dispatch.
Michael then coughed in the man's face, spit on him and said, "'If I have it, you have it," referring to COVID-19, the report said.
The Saylor Township resident was convicted last month of willful injury causing serious injury, and sentenced on Wednesday, according to The Des Moines Register. . . .
Officials are worried that the US could face increased summer bloodshed — after mass shootings in three states left two people dead and 30 wounded Friday night into Saturday morning.
"It's very disturbing what we're seeing across the country and the level of gun violence that we're seeing across the country," Savannah's police chief, Roy Minter, Jr. told reporters Saturday.
"It's disturbing and it's senseless."
The top cop made the statement after one man was killed and seven other people were wounded, including two children, during a shooting at an apartment complex in the Georgia city.
Meanwhile, in Austin, Texas, cops arrested one suspect after a fight between two groups sparked a shooting spree on a crowded pedestrian plaza packed with revelers. Fourteen people were injured, and another suspect was still being sought.
[ New York Post ]
Responding to the news that Algerian authorities have arrested journalists Khaled Drareni and Ihsane El Kadi as well as the emblematic opposition leader Karim Tabbou last night, ahead of legislative elections on 12 June, Amnesty International's Deputy Director for the Middle East and North Africa, Amna Guellali said:
"These arrests mark a chilling escalation in the Algerian authorities' clampdown on the rights to freedom of expression and association ahead of the elections. Instead of rounding up journalists and political opponents in a bid to crush dissent and intimidate members of the Hirak protest movement, Algeria's authorities should focus on respecting their human rights obligations.
"It is highly likely that the three men have been targeted as retribution for their ties to the Hirak protest movement, which has called for radical political change in Algeria through peaceful means. Their detention follows an alarming pattern in recent months of arbitrary arrests and prosecutions of journalists and activists calling for social justice and political reforms. Unless the authorities have clear grounds to justify these arrests, the three men must be immediately released."
Background:
The three men were arrested separately in the evening of 10 June and have been detained in Antar security centre for interrogation. It is not the first time they have been targeted by Algerian authorities.
Khaled Drareni was sentenced to three years in prison after a grossly unfair trial for his coverage of the Hirak protest movement in August 2020. The sentence was reduced to two years on appeal. He was released in February 2021 and his case was sent for retrial by the Supreme Court in March 2021.
In March 2020, political leader Karim Tabbou was sentenced to one year in prison on trumped up charges in relation to comments made in videos published on his political party's Facebook page in which he criticized the role of the army in politics.
Ihsane El Kadi, director of Maghreb Emergent and RadioMPost, has faced legal proceedings for "defamation and insult" against Algeria's president. In response, the authorities blocked the media outlets he runs.
As of today, there are 223 people currently detained in Algeria in connection with the Hirak protest movement according to local groups and activists monitoring the human rights situation on the ground.
****************************************
For more information or to arrange an interview, please contact: press@amnesty.org or call +44 20 7413 5566
WASHINGTON—A U.S. senator on June 10 slammed American companies, including Amazon.com Inc., Apple Inc., and Nike Inc. for turning a blind eye to allegations of forced labor in China, arguing they are making American consumers complicit in Beijing's repressive policies.
Speaking at a Senate Foreign Relations Committee hearing on China's repression of Uyghurs and other Muslim minorities in its western Xinjiang region, Republican Senator Marco Rubio said many U.S. companies had not woken up to the fact that they were "profiting" from the Chinese government's abuses.
"For far too long companies like Nike and Apple and Amazon and Coca-Cola were using forced labor. They were benefiting from forced labor or sourcing from suppliers that were suspected of using forced labor," Rubio said. "These companies, sadly, were making all of us complicit in these crimes." . . .
CARBIS BAY, England — British Prime Minister Boris Johnson greeted world leaders on a wooden boardwalk on the freshly raked sand of Carbis Bay to open the Group of Seven summit Friday, offering elbow bumps to dignitaries gathering for the first time since the onset of the COVID-19 pandemic. The virus was set to dominate their discussions, with leaders of the wealthy democracies club expected to commit to sharing at least 1 billion vaccine shots with struggling countries.
A commitment from U.S. President Joe Biden to share 500 million doses and one from Johnson for another 100 million shots set the stage for the G-7 meeting under gray and moody skies in southwest England, where leaders will pivot Friday from their "family photo" by the seaside directly into a session on "Building Back Better From COVID-19."
"We're going to help lead the world out of this pandemic working alongside our global partners," Biden said. The G-7 also includes Canada, France, Germany, Italy and Japan. . . .
The Wisconsin State Senate has passed a bill prohibiting the outside, private financing of elections – a move that follows the Facebook CEO Mark Zuckerberg's large-scale 2020 election interference.
As originally reported by The National Pulse ahead of the 2020 election, Zuckerberg ploughed cash into heavily Democrat districts in order to privately march more left-wing voters to the ballot box. . . .
FDA orders Johnson & Johnson to throw out 60 MILLION Covid vaccine doses made at Baltimore plant that had several violations
The FDA has ordered 60 million doses of Johnson & Johnson's coronavirus vaccine to be discarded on Friday
The shots were made at a Baltimore plant run by Emergent BioSolutions, which has come under fire after receiving several heath violations
Among them include workers who failed to shower or change clothes, mold in the facility and poor disinfection or equipment
It is unclear if the plant, which closed two months ago after ruining millions of J&J doses in an ingredient mix-up, will be allowed to reopen
The loss of the doses means the U.S. is even more unlikely to reach President Joe Biden's goal of 70% of adults partially vaccinated by July 4
An advisory committee to the U.S. Food and Drug Administration (FDA) held a virtual meeting Thursday to discuss what data would be needed to vaccinate children under 12 against COVID.
While some advisors said it's too soon to rush the use of vaccines in the pediatric population because kids are at such low risk from the virus, most argued that it's important to have authorizations on hand should there be a resurgence of the virus in the fall and winter.
The members of the FDA's Vaccines and Related Biological Products Advisory Committee (VRBPAC) were not asked to provide specific advice or to vote during the meeting.
The role of the FDA is to advise companies on what kind of clinical trials and data the agency wants to see before extending Emergency Use Authorization (EUA) or full approval of drugs, including vaccines, for use in new age groups.
The following issues were discussed during the meeting:
What's needed in terms of data — including safety data, database size and duration follow-up — to support EUA and licensure for COVID vaccines for pediatric age groups 6 to 12 years, 2 to 6 years and 6 months to 2 years of age.
Provided there is sufficient evidence of effectiveness to support the benefit of a COVID preventive vaccine for adolescents 12 to 18 years old, safety data, including database size and duration of follow-up, would be needed to support licensure of the vaccine.
Studies following licensure and/or issuance of an EUA needed to further evaluate safety and effectiveness of COVID vaccines in different pediatric age groups.
Pfizer's COVID vaccine is currently authorized for emergency use in people as young as age 12. Moderna is authorized for people 18 and older, although the company has asked the FDA to authorize its use in children as young as 12. Johnson & Johnson's vaccine is authorized in people 18 and older.
Both VRBPAC members and public health experts and scientists expressed concerns about using COVID vaccines in the pediatric population.
Peter Doshi, Ph,D, associate professor University of Maryland School of Pharmacy and senior editor of The BMJ, said during the open public hearing session, there is no emergency that would warrant using EUA to authorize COVID vaccines for children.
Pointing to Pfizer's trial of 12- to15-year-olds which supported the recent EUA, Doshi said the harms outweighed the benefits and those who had the placebo were "better off" than those who received the vaccine. . . .
After more than a year of cover-ups and denials, corporate media is finally beginning to admit that the lab leak theory of the origin of the CCP (Chinese Communist Party) virus is looking increasingly likely. It's been known all along that the Wuhan Institute of Virology was constructing novel coronaviruses using sample collection from wild bats. There were also prominent warnings issued specifically about the work and biosafety at the lab as early as 2015. But none of this stopped corporate media from promoting the theory of a natural origin. Worse still, the idea of pushing the natural origin theory may have originated in a secret teleconference that directly involved Dr. Anthony Fauci. Welcome to Truth over News with Jeff Carlson and Hans Mahncke. . . .
[ Truth Over News ]
(Washington, DC) – Judicial Watch announced today that it filed a Freedom of Information Act (FOIA) lawsuits against the Office of the Director of National Intelligence (ODNI) and the State Department for information on the Wuhan Institute of Virology and the origins of the SARS-CoV-2 virus (Judicial Watch, Inc. v. Office of the Director of National Intelligence (No. 1:21-cv-01515)), (Judicial Watch, Inc. v. U.S. Department of State (No. 1:21-cv-01516)).  
The lawsuit against the Office of the Director of National Intelligence was filed after it failed to respond to a March 11, 2021, FOIA request for all reports and records of communication dating back to June 1, 2017, regarding the Wuhan Institute of Virology and/or the origins of the SARS-CoV-2 virus.
On April 30, 2020, the Office of the Director of National Intelligence issued a press release stating, "The entire Intelligence Community has been consistently providing critical support to U.S. policymakers and those responding to the COVID-19 virus, which originated in China."
The lawsuit against the State Department was filed after it failed to respond to a March 10, 2021, FOIA request that asked for:
All cables/teletypes, emails, or other messages sent or received by any official or employee of the Department of State assigned to the U.S. Embassy in Beijing or any Consulate in China related to the Wuhan Institute of Virology and/or the origins of the SARSCoV-2 virus.
All records regarding meetings between any official, employee, or representative of the Department of State and any official, employee, or representative of the Wuhan Institute of Virology, including briefing materials, notes, reports, or other records related to any such meeting.
All records related to former Secretary Pompeo's appearance on ABC's "This Week" in May 2020 [during which

he discussed

concerns about the Chinese government's handling of the COVID pandemic]
"We don't trust either the Biden administration or the Deep State to voluntarily come clean on COVID and its possible connections to the Wuhan Institute," said Judicial Watch President Tom Fitton. "Judicial Watch's FOIA lawsuits could be the key to unraveling the truth about COVID and the Wuhan Institute."
Last week, a Judicial Watch lawsuit uncovered HHS records that show that from 2014 to 2019, $826,277 was given to the Wuhan Institute of Virology for bat coronavirus research by the National Institute of Allergy and Infectious Diseases (NIAID), which is headed by Dr. Anthony Fauci. The records contain an email from Peter Daszak, president of EcoHealth Alliance, that details the relationship between the Fauci agency and the Wuhan Institute of Virology:
NIAID has been funding coronavirus work in China for the past 5 years … (1R01Al110964: "Understanding the Risk of Bat Coronavirus Emergence"). That's now been renewed … Collaborators include Wuhan Institute of Virology (currently working on the nCoV), and Ralph Baric [of the University of North Carolina].
On March 1, Judicial Watch uncovered emails and other records of Fauci and Dr. H. Clifford Lane from HHS showing that NIH officials tailored confidentiality forms to China's terms and that the World Health Organization (WHO) conducted an unreleased, "strictly confidential" COVID-19 epidemiological analysis in January 2020. Additionally, the emails reveal an independent journalist in China pointing out the inconsistent COVID numbers in China to Lane.
In October 2020, Judicial Watch uncovered HHS records that included emails Fauci's approval of a press release supportive of China's response to the 2019 novel coronavirus.
On May 4, 2020, Judicial Watch filed a FOIA lawsuit against HHS seeking communications between Dr. Anthony Fauci, Lane, and WHO officials concerning the novel coronavirus. . . .
As recent media reports provide hindsight into how wrong the narrative was against President Trump; and specifically as details emerge about: (1) Anthony Fauci misleading background statements; (2) Obama's involvement in the restart of SARS-CoV-2 weaponization via the Wuhan bio-lab; (3) the intentionally hyped risk caused by the COVID-19 virus; and, (4) the intentionally false attacks against mitigating medical treatments proposed by President Trump; it is worth revisiting an announcement in early May 2020 when the Democrats said they intended to use intelligence community methods to promote propaganda against the Trump administration.
On May 1, 2020, the Washington Post -an outlet known for being the manipulative propaganda voice of the Intelligence Community- openly stated a network had formed with the intent to weaponize "Technology once used to combat ISIS propaganda" against President Donald Trump and the White House efforts on COVID.
The problem, as they identified it, was President Trump's ability to work around media control and share his message on COVID through his social media platforms. The former intelligence operatives and defense department personnel were creating a network of aligned interests to undermine President Trump's ability to communicate.
MAY 2020 – The Washington Post: "A new Democratic-aligned political action committee advised by retired Army Gen. Stanley McChrystal, the former head of U.S. forces in Afghanistan, is planning to deploy technology originally developed to counter Islamic State propaganda in service of a domestic political goal — to combat online efforts to promote President Trump's handling of the coronavirus pandemic. . . .
Wednesday, during an interview that aired on Newsmax TV, Sen. Rand Paul (R-KY) attacked National Institute of Allergy and Infectious Diseases Director Anthony Fauci's approach to promoting universal vaccinations, which he deemed "one-size-fits-all."
Newly released emails show that Dr. Anthony Fauci made dinner plans during the same period he advised Americans to stay indoors due to the COVID-19 pandemic.
In a May 2020 email, Fauci appeared to have accepted an invitation from a personal friend to come over for dinner.
Stay-at-home orders for everyone! (But he'll be at Zeke's.) https://t.co/Cf4eYqIK2i pic.twitter.com/vsrNKAVij3

— Phil Kerpen (@kerpen) June 9, 2021
"You are a national–international–treasure. And we are depending on your sanity and smarts. We can have you and ***redacted*** over for dinner on the porch and order in from ***redacted*** or something. Anytime you are ready," wrote Dr. Ezekiel Emmanuel in a May 1, 2020 email to Fauci.
"Let us try to do this next weekend," replied Fauci on May 2. . . .
J&J CEO Says People Will Likely Need COVID Vaccine With Annual Flu Shot for Next Several Years as Variants Spread
Johnson & Johnson CEO Alex Gorsky reiterated Wednesday that people will likely need to receive additional doses of the COVID-19 vaccines alongside the annual flu shot for the next "several years."
People will need to get the COVID booster shots until herd immunity is achieved on a global level and world leaders and scientists are able to limit the spread of highly contagious variants, Gorsky said during The Wall Street Journal's Tech Health conference.
"We could be looking at this tagging along with the flu shot, likely over the next several years," he said, referring to the Covid vaccines.
Cleveland Clinic: Already Had COVID? Vaccine Provides No Added Benefit
A new preprint study by the Cleveland Clinic found people previously infected with SARS-CoV-2 were less likely to be reinfected than fully vaccinated individuals who never had the virus — suggesting the vaccine is of no benefit to people who already had COVID.
The Cleveland Clinic recently studied the effectiveness of COVID-19 vaccination among people with a history of previous SARS-CoV-2 infection and those without. The purpose of the study was to evaluate the necessity of COVID vaccination in persons previously infected with SARS-CoV-2.
The study, available on medRxiv, provides insight into how the immune system protects the body once a COVID infection is confirmed, the Cleveland Clinic said. . . .
Sen. John Kennedy warned White House chief medical adviser Dr. Anthony Fauci to "cut the crap" Wednesday night after Fauci described criticism of him as "attacks on science."
"I know Dr. Fauci, I like Dr. Fauci, I respect Dr. Fauci," Kennedy (R-La.) told Fox News' "Hannity." "But Dr. Fauci needs to cut the crap. This isn't about Dr. Fauci. It's not about his feelings, and I'm sorry if his feelings were hurt. You know, maybe he ought to buy an emotional support pony.
"But we're not debating dance moves on TikTok here," the colorful senator continued. "We're talking about millions of human lives."
Fauci has been criticized in recent days on a number of issues related to the coronavirus pandemic following the release of thousands of his emails, including his changed stance on the effectiveness of masks and his early dismissal of the possibility that the virus accidentally leaked from the Wuhan Institute of Virology in Wuhan. . . .
Dr. Anthony Fauci is drawing a lot of attention for his latest defense. He says people who criticize him are attacking science and "the truth."
FULL INTERVIEW: "There is a global suppression on any early treatment. I want the listeners to understand how global this is. If we were to go north into Canada, doctors are threatened that their licenses will be examined or taken away if they attempt to treat an out-patient with Covid-19. They are told this in Canada. In Northern E.U. the same is true. Dr. Didier Raoult who is trying to innovate with Hydroxychloroquine and Azithromycin in France in previous times has been under degrees of threat of arrest or partial arrest or house arrest, almost as if we're back in the dark ages. In Australia, in April, they put on the books in Queensland, Australia a doctor who tries to help a patient with Hydroxychloroquine could be penalized up into the point of going into jail for six months for helping. In South Africa they put some doctors in jail for trying to help patients with Ivermectin. Listen, the powers that are out there that want to suppress early treatment and cause as much fear, suffering, hospitalization and death are not by happenstance. These are powerful forces that have created such fear among doctors. People are fearful they're going to lose their careers, their livelihood, their medical license, people are afraid of going to jail in just helping their fellow man get through Covid-19. This is extraordinary. Historians should go look through the course of time. You know the very first doctor who tried to help a polio patient survive polio with the iron lung machine, which became really a stable ICU device, was thrown off medical staff. 'Throw him off staff!'" ~ Dr. Peter McCullough
The U.S. is barreling toward one of the greatest self-inflicted wounds in its history. This came into sharper focus last week when President Biden suspended oil leases in Alaska's Arctic National Wildlife Refuge (ANWR), even as Russia and the Organization of the Petroleum Exporting Countries (OPEC) announced production increases.
Mr. Biden's anti-carbon fusillade will have no effect on the climate as global demand for fossil fuels will continue to increase for decades no matter what the U.S. does. Meantime, Russia, China and Iran will take advantage of America's astonishing fossil-fuel retreat. . . .
Federal authorities have received over 800 reports of heart inflammation in people who received a COVID-19 vaccine, a health official said Thursday.
The reports of myocarditis or pericarditis were submitted to the Vaccine Adverse Event Reporting System, a passive reporting system run jointly by the Centers for Disease Control and Prevention (CDC) and the Food and Drug Administration, through May 31.
The bulk of the reports described heart inflammation appearing after the second of two doses of either the Pfizer of Moderna vaccines, both of which utilize messenger RNA technology.
Authorities stress that anybody can submit reports through the reporting system but authorities have already verified that 226 of the reports meet the CDC's working case definition, Dr. Tom Shimabukuro, a deputy director at the agency, said during a presentation of the data. Followup and review are in progress for the rest.
Of the 285 case reports for which the disposition was known at the time of the review, 270 patients had been discharged and 15 were still hospitalized, officials said. Myocarditis typically requires hospital care. No deaths were reported.
Fulton County, Ga., poll manager Suzi Voyles sorted through a large stack of mail-in ballots last November, she noticed an alarmingly odd pattern of uniformity in the markings for Joseph R. Biden. One after another, the absentee votes contained perfectly filled-in ovals for Biden — except that each of the darkened bubbles featured an identical white void inside them in the shape of a tiny crescent, indicating they'd been marked with toner ink instead of a pen or pencil.
Adding to suspicions, she noticed that all of the ballots were printed on different stock paper than the others she handled as part of a statewide hand recount of the razor-thin Nov. 3 presidential election. And none was folded or creased, as she typically observed in mail-in ballots that had been removed from envelopes.
In short, the Biden votes looked like they'd been duplicated by a copying machine. . . .
---
The post Commentary: 'Pristine' Biden Ballots That Looked Xeroxed and Why a Judge Has Georgia Vote Fraud on His Mind appeared first on The Georgia Star News.
Note: this post was first published Sept. 25, 2020.
The National Institutes of Health (NIH) has given millions of taxpayer dollars to a U.S.-based group that partnered with the Wuhan, China lab to study bat coronaviruses.
NIH cancelled some funding under pressure in April after the partnership with the Wuhan lab was reported by the media.
A few weeks ago, NIH awarded more tax money to the U.S. group.
Scientists have long experimented with and genetically altered coronavirus to use as a vaccine "vector." . . .
Alex Kormann • alex.kormann@startribune.com
Law enforcement officers formed a line between protesters and an Enbridge pump station Monday.
DULUTH – Native American contractors working on the controversial Enbridge Line 3 pipeline across Minnesota say the Indigenous-led protests that escalated Monday do not speak for them.
"Protests that disrupt work, damage property and threaten our employees while claiming to be on behalf of our Native people is creating additional tension and consequences within our tribal communities," six contractors wrote in a letter being sent to Minnesota tribal leaders this week. "They also intentionally create a false narrative that there is no Native American support for this project and the economic impacts and opportunities it brings to our people." . . .
An effort to bring wild bison to the Great Plains aims to restore one of the world's most endangered ecosystems.
On a blustery October afternoon at the Wolfcrow Bison Ranch in southern Alberta, Canada, Dan Fox and his ranch hand, Man Blackplume, tried to wrestle fence panels into place despite a 60 mph wind. The next day was weaning day — and the fence needed to be rock solid so the bison calves could be separated from their mothers.
The two members of the Kainai First Nation, also known as the Blood Tribe, braced their bodies against the 12-foot-high fence panels so they could nail them to the posts, but the panels flapped in the wind like giant wooden flags. Across the pasture, 30 bison stood huddled together in the corner, unfazed by the commotion. They were part of the first bison herd to grace the Blood Reserve in 150 years, Fox says. The Kainai First Nation is one of four tribal groups within the Blackfoot Confederacy, which includes the Blackfeet Tribe in Montana.
Fox, 63, believes the animals may have helped extend his life. He experienced a cancer scare more than 20 years ago, and at the suggestion of a Blackfoot healer and naturopath, he changed his diet, replacing processed food with bison meat and other ancestral foods. His health improved, and today he says he feels better than ever. He is convinced that his family and his community will benefit, as he did, by having the buffalo back on the land and in their lives. (Bison bison is the scientific name for the animal, but buffalo is the word that most Indigenous people use.)
More importantly, he said, the bison began to teach him about his culture and what it means to be a Blackfoot. "The elders from back in the day predicted that the only way the Native people are going to start gaining ground again, their ways of life, is when the bison come back," said Fox.
Research suggests there were 30 million to 60 million bison in North America in the 1500s. Four hundred years later, roughly 1,000 bison remained, a result of government policies that encouraged killing off the animals, largely to help defeat Indigenous inhabitants and force them onto reservations. . . .
On June 7th the U.S. Food and Drug Administration approved a new drug to treat early-stage Alzheimer's disease. Or perhaps I should say a drug intended to treat early-stage Alzheimer's was approved for any of the 6 million people with the disease. Presumably, nearly all those with Alzheimer's – or their families – will demand this new drug whether they are likely to benefit.
The drug, Aduhelm, is a monoclonal antibody. It targets a specific protein in the brain that is thought to form plaques in the brains of Alzheimer's patients, causing brain cells to atrophy and die.
Is this good news for patients suffering with Alzheimer's disease? Probably not and certainly not for taxpayers. The clinical trial data found little evidence the drug works. One Phase 3 clinical trial showed a slight slowing in cognitive decline, while the second clinical trial failed to show any improvement.
Lon Schneider, M.D. helped conduct one of the clinical trials. He told the New York Times, "There's so little evidence for effectiveness… I don't know what caught the F.D.A.'s fancy here." Dr. Schneider is the director of the California Alzheimer's Disease Center at the University of Southern California. . . .
When Bill de Blasio first ran for mayor in 2013, betting that a progressive, anti-Bloomberg Democrat could vault into City Hall, his education platform was clear: charter schools would not have it so easy when he won.
"Starting January, Eva Moskowitz cannot continue to have the run of the place," de Blasio fumed that year, referring to the most powerful charter school executive in the city. "Just because someone is politically connected and has a lot of money behind them, they don't tell the public school system what to do."
Eight years later, Eva Moskowitz is still the CEO of Success Academy, the large and highly influential charter school network, and her name is nowhere to be found in the mayoral race. Instead of left-leaning Democrats taking turns promising to block the expansion of charters, the top candidates in this primary are taking a very different tact — deference, or even praise, for the privately-run, publicly-funded schools.
"I want to make New York City public schools great but charters offer us an opportunity," Kathryn Garcia, who has emerged as a top Democratic contender, told the Voice. "They can be labs for experimentation."
The changing tune on charters is one of the more remarkable policy turnarounds in a race in which the candidates, otherwise, have proposed many progressive programs that would expand on de Blasio's vision: free schooling before pre-K, public banking, and more affordable housing. Traditionally, many left-leaning Democrats and union activists have reviled charter schools because they don't have to recognize teachers' unions, unlike ordinary public schools, and can easily block the admission of students with disabilities and language difficulties. Since charter schools co-locate with public schools in the same school building, fierce battles have erupted over space and supplies.
Defenders of charter schools argue they offer an alternative education where public schools are struggling and allow poorer, nonwhite students to enjoy the privileges of wealthier peers in private schools. Many charter schools in New York City operate in predominately Black and Latino neighborhoods, where they enjoy support among parents. Students who remain in charters perform well on state exams.
Some liberal, technocratic Democrats have embraced charters — Barack Obama was a supporter — but they remain a favorite cause of Wall Street, with billionaires in New York and nationally funding their growth. Right-wing, charter-backing billionaires, including hedge funders Kenneth Griffin and Daniel Loeb, are lavishly funding super PAC's for two of the leading mayoral contenders, Eric Adams and Andrew Yang. . . .
A Wisconsin Air National Guard pilot's fatal crash last year in Michigan was due to numerous factors, including faulty GPS, according to an Air Force report released Wednesday.
Spatial disorientation, flying at night in bad weather and no working GPS all contributed to the crash in northern Michigan on Dec. 8, 2020, that killed 37-year-old Capt. Durwood "Hawk" Jones, the Air Force investigation determined.
Jones was killed instantly when his F-16 went down in the Hiawatha National Forest in Michigan's Upper Peninsula.
On the night of the crash, Jones and his wingman were scheduled to conduct an aerospace control alert training mission, but the Wisconsin Civil Air Patrol aircraft – meant to be the intercept target – canceled because of bad weather near Green Bay, according to the Air Force Accident Investigation Board report.
Instead, the two pilots took off to practice a scramble flight, during which Jones noticed his GPS had lost its satellite tracking data. While trying to resolve the navigation problems, Jones lost sight of his wingman when the two flew into bad weather and radioed that he was "blind."
Jones then became spatially disoriented and was unaware that his F-16 was quickly losing altitude at a high speed when he crashed into a wooded area, according to the report. He did not attempt to eject and the aircraft was destroyed. . . .
US Defense Secretary Lloyd Austin says he is 'concerned' about Iranian warships 'transporting arms' across the Atlantic 'to Venezuela and vows to take 'appropriate measures' to stop them
Iranian destroyer Sahand and support craft Makran are in the Atlantic
Ships are reportedly transporting arms to Venezuela, despite US warnings not to
Left Iran last month and are on their 'longest and most challenging' mission yet
Iran has close ties with Venezuela and delivered oil to the US-sanction hit state
The US says it has reached out diplomatically to both Venezuela and Cuba, warning them to turn the ships away
Senator Elizabeth Warren who's known for claimin
Senator Elizabeth Warren who's known for claiming she is part Indian is pushing for more taxes on the super-rich and is using data that was stolen or leaked from the IRS to support her position.
Senator Elizabeth Warren (aka Pocahontas) was fine sharing stolen information with her followers so she could add her comments about taxing the rich.
It's one thing to know in the abstract that the ultra-rich play by a different set of rules.

It's another thing to have the facts shoved in your face.

Let's start to level the playing field here with a #WealthTax. https://t.co/oDu7PbRW27

— Elizabeth Warren (@ewarren) June 9, 2021
(We include since the data is now readily available on the Internet.)
We know the data was stolen because this is the only way this information could get out.  Pjmedia reported:
ProPublica published a database that included the personal tax information of several exceptionally wealthy Americans. It will not be linked here because the disgusting piece posted personal, possibly hacked information. The IRS better hope it was a hack—or else one of its own needs to go to jail. The laws governing the disclosure of tax information are unambiguous and have very few exceptions.
It's against the law to steal tax information and that is the only way this information could have gotten out.  The IRS
announced yesterday
that they were looking into the lead:
Federal authorities are investigating the release of wealthy Americans' tax information, Internal Revenue Service Commissioner Charles Rettig said Tuesday," the Wall Street Journal reports.

"ProPublica, a nonprofit news organization, published details about the reported income and tax payments of some of the richest Americans, including Amazon.com Inc. Chief Executive Officer Jeff Bezos and Berkshire Hathaway Inc. CEO Warren Buffett."
This tactic of releasing tax information on political enemies is not new.  This was done in the Obama Administration and of course, O
bama said he had no idea
it was done:
President Obama said he didn't find out about the Internal Revenue Service targeting the tax-exempt status of conservative political groups until media outlets started reporting it on May 10. He demanded accountability and said he wanted to see an internal IRS investigation.
FDR focused his efforts on derailing a slew of perceived opponents, including Andrew Mellon, who was the secretary of Treasury under President Hoover. In the Roosevelt administration, Mellon was subjected to intense income tax audits, and endured a two-year civil action lawsuit, which was referred to at the time as the "Mellon Tax Trial."
It looks like the Obama/Biden gang is using this illegal tactic again.
The post Senator Elizabeth Warren (aka Pocahontas) Shares Link to Stolen Data on Taxes Paid by the Super Wealthy to Push Taxing the Rich appeared first on The Gateway Pundit.
Left-wing watchdog Media Matters was forced to issue a retraction after publishing a story that falsely claimed Republican Texas State Sen. Bob Hall appeared on a program for a white nationalist and pro-Hitler outlet.
Media Matters claimed in their story that Hall did an interview with The Barnes Review, an outlet that publishes stories like "Why the Holocaust Story Was Invented" and writes about Hitler's "humanism … kindness and thoughtfulness." It later turned out that the so-called interview never happened, and pieces of other interviews Hall had given were edited to make it seem like he had done an interview with The Barnes Review.
"Earlier today, Media Matters published a story stating that Texas state Sen. Bob Hall had 'appeared on the program of a white nationalist, pro-Hitler outlet that denies the Holocaust,'" the correction said.
"After publication, we were made aware that the program in question – The Barnes Review History Hour (TBR History Hour) – had faked the interview, falsely claiming they had interviewed Hall by splicing in previous interviews Hall had given to other outlets and making it seem like he was responding to questions from TBR. We have pulled the story and apologize for the error." . . . .
A reputed teenage gang member with three gun busts in four months had his bail reduced by a Bronx judge — allowing him to get out of jail and allegedly fire a random shot that killed an innocent father of two, The Post has learned.
Alberto Ramirez, 16, was arrested Monday in the slaying of Eric Velasquez, 34, who was struck by a stray bullet that the teen allegedly shot blindly into a crowd while on a rival gang's turf, law-enforcement sources said. He has pleaded not guilty.
Ramirez was locked up on $75,000 bail when acting Supreme Court Justice Denis Boyle lowered the amount to $10,000 cash or $25,000 bond over prosecution objections on March 2, the Bronx District Attorney's Office said Wednesday.
His family bailed him out a few weeks later, a spokeswoman for DA Darcel Clark said — putting him back on the streets. . . .
A Loudoun County, Virginia court has temporarily reinstated an elementary school gym teacher in northern Virginia who spoke out against the School Board's proposed transgender policy.
The proposed transgender policy would reportedly require teachers to address students by their "preferred pronouns."
The teacher, Tanner Cross, objected and made concisely-prepared comments during a School Board meeting. He was suspended from his job after the statements. . . .
How many people would have been saved if the professional medical establishment had not been politically determined to undermine President Trump?
Last year President Trump advocated for Hydroxychloroquine (HCQ) and Azithromycin (AZM), two readily available drugs, in the treatment of COVID patients who worsened with the respiratory illness to the point of Invasive Medical Ventilation (IVM). The media proclaimed the presidential advice was wrong, and the medical establishment undermined the administration's advocacy. Now a study shows treatment with those medicines would have led to many saved lives. . . .
BILLINGS, Mont. — The sponsor of the Keystone XL crude oil pipeline pulled the plug on the contentious project Wednesday after Canadian officials failed to persuade President Joe Biden to reverse his cancellation of its permit on the day he took office.
Calgary-based TC Energy said it would work with government agencies "to ensure a safe termination of and exit from" the partially built line, which was to transport crude from the oil sand fields of western Canada to Steele City, Nebraska.
Construction on the 1,200-mile (1,930-kilometer) pipeline began last year when former President Donald Trump revived the long-delayed project after it had stalled under the Obama administration. It would have moved up to 830,000 barrels (35 million gallons) of crude daily, connecting in Nebraska to other pipelines that feed oil refineries on the U.S. Gulf Coast.
Biden canceled it in January over longstanding concerns that burning oil sands crude would make climate change worse.
Canadian Prime Minister Justin Trudeau had objected to the move, although officials in Alberta, where the line originated, expressed disappointment in recent weeks that Trudeau didn't push Biden harder to reinstate the pipeline's permit.
Alberta invested more than $1 billion in the project last year, kick-starting construction that had stalled amid determined opposition to the line from environmentalists and Native American tribes along its route.
Alberta officials said Wednesday they reached an agreement with TC Energy, formerly known as TransCanada, to exit their partnership. The company and province plan to try to recoup the government's investment, although neither offered any immediate details on how that would happen.
"We remain disappointed and frustrated with the circumstances surrounding the Keystone XL project, including the cancellation of the presidential permit for the pipeline's border crossing," Alberta Premier Jason Kenney said in a statement.
The province had hoped the pipeline would spur increased development in the oil sands and bring tens of billions of dollars in royalties over decades.
Climate change activists viewed the expansion of oil sands development as an environmental disaster that could speed up global warming as the fuel is burned. That turned Keystone into a flashpoint in the climate debate, and it became the focus of rallies and protests in Washington, D.C., and other cities.
Environmentalists who had fought the project since it was first announced in 2008 said its cancellation marks a "landmark moment" in the effort to curb the use of fossil fuels.
"Good riddance to Keystone XL," said Jared Margolis with the Center for Biological Diversity, one of many environmental groups that sued to stop it.
Attorneys general from 21 states had sued to overturn Biden's cancellation of the pipeline, which would have created thousands of construction jobs. Republicans in Congress have made the cancellation a frequent talking point in their criticism of the administration, and even some moderate Senate Democrats including Montana's Jon Tester and West Virginia's Joe Manchin had urged Biden to reconsider.
Tester said in a statement Wednesday that he was disappointed in the project's demise, but made no mention of Biden.
Wyoming Sen. John Barrasso, the top Republican on the Senate energy committee, was more direct: "President Biden killed the Keystone XL Pipeline and with it, thousands of good-paying American jobs."
A White House spokesperson did not immediately respond to a request for comment on TC Energy's announcement.
The California Citizens Compensation Commission, which is appointed by the governor, voted 4 to 0 on Tuesday to approve the 4.2% pay hikes for state elected officials.
A former Tennessee governor's administration helped pay a murder contract for a 1979 hit on a federal witness who was buddies with union boss Jimmy Hoffa, authorities said.
The white contract killer wore a wig, fake beard and was in blackface when he gunned down Chattanooga businessman Samuel Pettyjohn, a cooperating witness in a corruption scandal that brought down the now-dead governor, Hamilton County prosecutors announced Wednesday.
Pettyjohn had cash and jewelry worth $100,000 on him when was killed on Feb. 1, 1979 inside a Beverage Mart he owned, authorities said in a news release.
"Essentially, Mr. Pettyjohn cooperated with authorities and knew too much about what was going on locally, as well as the state level, and individuals didn't like that and so individuals hired someone to murder him," Hamilton District Attorney Neal Pinkston said. . . .
Following several stories claiming that CloutHub CEO Jeff Brain and his social media platform played a "role in the violent attack on the Capitol," the CloutHub founder denounced them as "dishonest" and said he is consulting attorneys on possible legal action against the author.
The original article in "The Uprising" by Hunter Walker said that a CloutHub group called "Patriot Caravans for 45" had "violent overtones," despite Brain writing in a post on the group that users should "Report Anyone posting inappropriate content or discussion of violence & they will be deleted from the group."
Walker wrote in his article that there were three users who posted in the group that contributed to the violent tonality, named "Jaybirdy," "MrM1A2," and "Teeree." He said that "Jaybirdy" had "indicated they were leading a planning meeting in the D.C. suburb of Arlington, Virginia. 'Jaybirdy' described themself by boasting about their skill with guns. 'Good patriot. Good manners. Good shot,' Jaybirdy wrote."
Walker also mentioned that "'MrM1A2,' an apparent reference to a battle tank, noted their military experience and equipment as they sought a ride to the Capitol from Florida. 'COMBAT VETERAN JUST LOST MY RIDE FROM NAPLES FL to DC HAVE EXTRA WALKIE TALKIES AND SUPPLIES,' MrM1A2 wrote."
Lastly, according to Walker, "Teeree" had "discussed plans to rent a bus and noted Washington D.C. Mayor Muriel Bowser was preparing for potential violence at the protests. 'NO LUNCH BREAK ON THE BUS!' Teeree wrote. 'There's a rumor the Mayor of DC may shut the city down. Bring sammiches or other snackables for that eventuality.'"
In an interview with Just the News on Wednesday, Brain said that there were "no violent posts in the group." He explained how Walker "mischaracterized completely" the users that were mentioned.
According to Brain, none of those users posted in the "Patriot Caravans for 45" group or wrote any violent posts, and the group was used for "peaceful purposes only." He said that "'Jaybirdy' never discussed marksmanship. In her profile, it says 'Good patriot. Good manners. Good shot.'"
User "MrM1A2" had "just said they were a combat veteran," Brain said. The third user who was discussed, "Teeree," just "mentioned sharing a bus — no violence," Brain added, and that the "planning meeting" was "completely made up, never mentioned" because it was only to see who was in the area to get together.
Brain said that the story was "completely contrived" and that "they're trying to ding CloutHub." He continued, "From the start, have had a clean and responsible platform — no hate, porn, or violence." . . .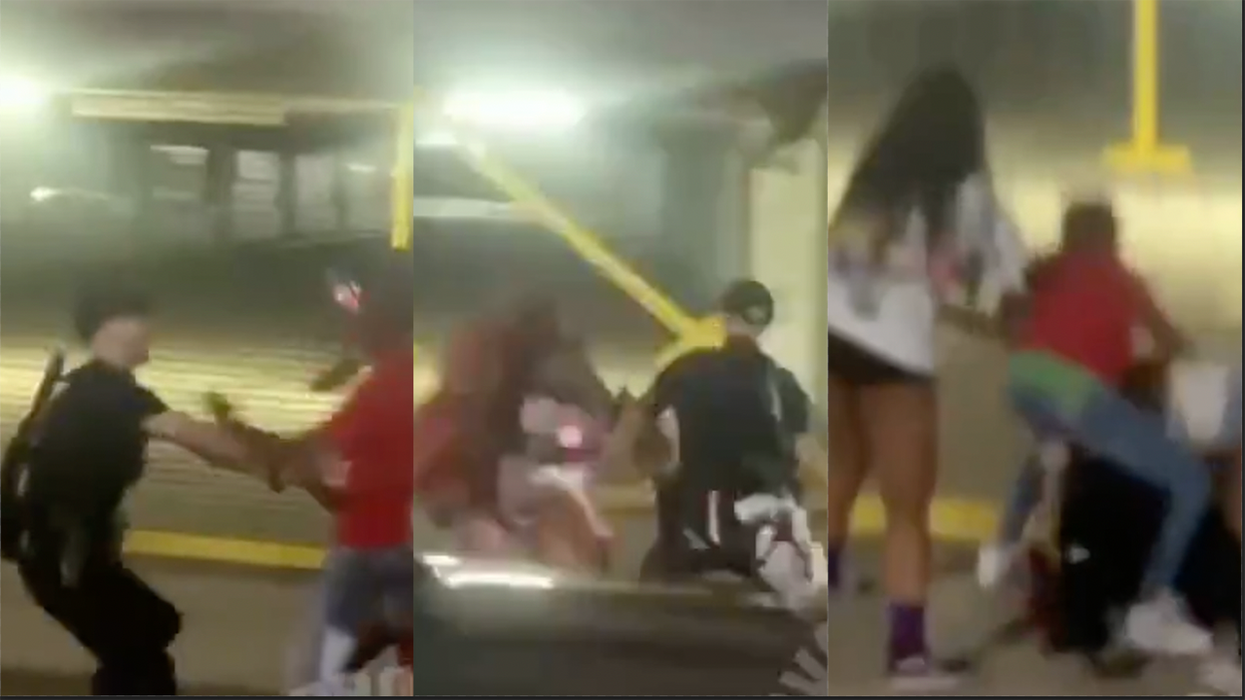 Hearing pieces of human excrement yell foul things at police officers, threatening the cops' families as well as the lives of cops themselves, barely fazes me anymore. It's what you can expect when every Democrat leader from Joe Biden on down has made it clear they will never have the police's backs. Not when there's a single political point to be scored by throwing cops under the bus. But this video is pretty offensive. Because of the angry mom assaulting a single police officer. And because of the scumbags who recorded it and laughed.
What was the cop doing to get jumped like this, you ask? He was trying to protect THE PEOPLE WHO WERE JUMPING HIM!
When gunshots ring out, our officers will not wait to respond and eliminate the threat. This officer ran towards danger, alone, to make sure some of the very people who attacked him would be safe.

It's sad no one from this crowd chose to help our officer but we don't believe that's a true representation of our community. We know you have our backs and we will continue to run towards danger to keep you safe.
I'd like to believe this isn't who we are as well. We'll find out once people start identifying the thugs in the video so that they can be arrested. Whoever @DuvalPromoPage is seems like a great place to start.
The message from the progressive left and their entire news-entertainment industrial complex is crystal clear. It's open season on cops, consequences be damned. Mostly because the perpetrators know there won't be consequences. I hope Jacksonville proves me wrong here. . . .
Teyana Taylor has become the first black woman ever to be named Maxim magazine's "Sexiest Woman Alive," joining the ranks of superstars like Kate Upton and Hailey Baldwin.
"Congratulations to Teyana Taylor @teyanataylor, our 2021 Maxim Hot 100 Sexiest woman in the world Go to Maxim.com for Teyana full interview," the magazine captioned its post on Instagram. The post was noted by Page Six in a piece published Wednesday.
The post included her cover shot rocking a ripped, cropped white tank top and camo pants and looking amazing. . . .
'Bosses wear Prada, workers get nada': 100 New Yorker magazine and other Condè Nast employees protest outside Anna Wintour's $12.5M townhouse in Greenwich Village to demand fair pay
The unionized weekly magazine workers staged the protest Tuesday after releasing a statement with a list of demands the previous day
They were joined by workers from Ars Technica and Pitchfork, two other Condè Nast publications with union representation
The group Anna Wintour's townhouse on Sullivan Street chanting: 'Bosses where Prada, workers get nada!'
The demonstration came a day after the New Yorker Union released a list of demands and said it was 'on the verge of a strike'
It's a tale of two cities.
A mystery buyer spent $157.5 million on two condos at 220 Central Park South, the most expensive apartment building in the nation, according to property records (the sale was first reported by the WSJ).
Both units were resales.
It's the biggest deal of the year so far. But the building's back entrance is on W. 58th St. — a block away from the Park Savoy Hotel, which will become a homeless shelter for 150 men.
The buyer plans to combine both apartments, an insider told The Post.
The sellers turned quite a profit.
The 60th-floor unit sold for $82.5 million — the seller had paid $50.9 million for it; while the 61st-floor unit sold for $75 million — that seller had bought for $51.4 million.
This is the same building where hedge funder Ken Griffin paid $238 million for a quadruplex in the middle of the building — the most expensive residential sale in the US. Sting also owns at 220 Central Park South. . . .
In 2007, Jeff Bezos, then a multibillionaire and now the world's richest man, did not pay a penny in federal income taxes. He achieved the feat again in 2011. In 2018, Tesla founder Elon Musk, the second-richest person in the world, also paid no federal income taxes.
Michael Bloomberg managed to do the same in recent years. Billionaire investor Carl Icahn did it twice. George Soros paid no federal income tax three years in a row.
ProPublica has obtained a vast trove of Internal Revenue Service data on the tax returns of thousands of the nation's wealthiest people, covering more than 15 years. The data provides an unprecedented look inside the financial lives of America's titans, including Warren Buffett, Bill Gates, Rupert Murdoch and Mark Zuckerberg. It shows not just their income and taxes, but also their investments, stock trades, gambling winnings and even the results of audits.
Taken together, it demolishes the cornerstone myth of the American tax system: that everyone pays their fair share and the richest Americans pay the most. The IRS records show that the wealthiest can — perfectly legally — pay income taxes that are only a tiny fraction of the hundreds of millions, if not billions, their fortunes grow each year.
Many Americans live paycheck to paycheck, amassing little wealth and paying the federal government a percentage of their income that rises if they earn more. In recent years, the median American household earned about $70,000 annually and paid 14% in federal taxes. The highest income tax rate, 37%, kicked in this year, for couples, on earnings above $628,300.
The confidential tax records obtained by ProPublica show that the ultrarich effectively sidestep this system.
America's billionaires avail themselves of tax-avoidance strategies beyond the reach of ordinary people. Their wealth derives from the skyrocketing value of their assets, like stock and property. Those gains are not defined by U.S. laws as taxable income unless and until the billionaires sell.
To capture the financial reality of the richest Americans, ProPublica undertook an analysis that has never been done before. We compared how much in taxes the 25 richest Americans paid each year to how much Forbes estimated their wealth grew in that same time period.
We're going to call this their true tax rate.
The results are stark. According to Forbes, those 25 people saw their worth rise a collective $401 billion from 2014 to 2018. They paid a total of $13.6 billion in federal income taxes in those five years, the IRS data shows. That's a staggering sum, but it amounts to a true tax rate of only 3.4%.
It's a completely different picture for middle-class Americans, for example, wage earners in their early 40s who have amassed a typical amount of wealth for people their age. From 2014 to 2018, such households saw their net worth expand by about $65,000 after taxes on average, mostly due to the rise in value of their homes. But because the vast bulk of their earnings were salaries, their tax bills were almost as much, nearly $62,000, over that five-year period. . . .
Megyn Kelly said when President Joe Biden was referring to America as a "racist country" he had someone close to him "in mind," after Hunter Biden's n-word text surfaced.
"Turns out when Joe Biden was telling us what a racist country America is, he had someone very near [and] dear in mind," Kelly tweeted on Tuesday, along with an article from the Daily Mail about Hunter's text messages.
Turns out when Joe Biden was telling us what a racist country America is, he had someone very near & dear in mind. https://t.co/15EjQRXXwh

— Megyn Kelly (@megynkelly) June 8, 2021
Hunter allegedly referred to his corporate attorney George Mesires multiple times as "n***a" and cracked jokes about his penis, calling it "unconditional," in text messages sent between 2018 and 2019.
Last week, the president gave a speech during his visit to Oklahoma on the 100th anniversary of the Tulsa race massacre. . . .
OTTAWA — With coronavirus restrictions still in place in much of Canada, many families have taken up going out together for evening strolls. On Sunday, however, a pleasant walk became the scene of a deadly attack by a motorist who used his truck to kill four members of a family in London, Ontario, and injure a boy who is now an orphan. They were targeted, the police said, because of their Muslim faith.
Along with grieving, the deaths have prompted anger and demands for government action against bigotry and violence toward Muslims.
"Even after this, there are still people saying that Islamophobia doesn't exist," said Mohamed Salih, a member of London's City Council. "The challenge and a reality we must face is that far too often in our city, there is Islamophobia. It's something we've known for far too long."
On Tuesday night, the province of Ontario temporarily lifted pandemic rules banning large gatherings to allow thousands of people to gather for a memorial outside the London Muslim Mosque to remember the Afzaal-Salman family. Prime Minister Justin Trudeau attended. . . .
A hospital system in Texas has suspended workers who did not get a COVID-19 vaccine.
The Houston Methodist system on April 1 informed employees that they would be required to get a vaccine on or before June 7 or submit documentation for an exemption.
Exemptions would only be based on a medical condition such as pregnancy deferment or sincerely held religious beliefs.
As of Tuesday, 24,947 workers have chosen to become fully vaccinated against the CCP (Chinese Communist Party) virus, which causes COVID-19, according to Marc Boom, the CEO of the system.
But, he told employees in an internal memo obtained by The Epoch Times, 178 workers either did not get fully vaccinated or did not get vaccinated at all.
"The small percentage of employees who did not comply with the policy are now suspended without pay for the next 14 days," he wrote, adding that the workers "have decided not to put their patients first."
According to the April 1 memo that was sent to employees in the hospital system, the workers who were suspended will be fired if they have not been fully vaccinated as of June 7. . . .
California's Emergency Services Act doesn't detail when an emergency declaration should be made or terminated. It leaves it up to the discretion of the governor to determine what constitutes an emergency and to decide when it's over. The only imperative is that the latter happens "at the earliest possible date that conditions warrant."
But when will conditions warrant the end of the state of emergency called by Gov. Gavin Newsom 15 months ago to respond to the COVID-19 pandemic? And what will it take to reach that point? Newsom hasn't said, other than it won't be on June 15,when the state is expected to lift the stay-at-home order, the mask mandate and the remaining business pandemic restrictions.
"We're still in a state of emergency. This disease has not been extinguished. It's not vanished. It's not taking the summer months off," he explained Friday during the first drawing in a series of cash prizes to encourage vaccinations.
It's was not a very illuminating response, and Newsom's political opponents immediately accused him of trying to have it both ways. They have a point; even as he's touting the economic recovery and enviable vaccination rates, he is holding on to the broad emergency powers that allow him to unilaterally suspend and alter laws, curtail people's private movements and award no-bid contracts, an authority Newsom has used at times to direct state dollars to his campaign donors. . . .
An Ohio man was sentenced to nearly 30 years in prison for enticing male minors to send explicit photos and videos over social media, the Department of Justice announced Monday.
Brendan Eardly, 50, reportedly messaged over 60 juveniles across the world through multiple social media accounts on Instagram, Facebook and messaging app Kik from October 2015 through August 2018, court documents show, according to the Department of Justice (DOJ).
Eardly offered to be a "gay mentor" to some of the minors and would talk to them about sex or provide sexual advice, according to the DOJ. He requested the minors send him nude and sexually explicit content and sent similar messages to them. . . .
The White House on Tuesday downplayed any personal rift between President Biden and Sen. Joe Manchin (D-W.Va.) as some progressive Democrats ramped up their criticisms of the moderate senator after he voiced opposition to a sweeping voting rights bill and changes to the Senate filibuster.
Rep. Jamaal Bowman (D-N.Y.) on Monday called Manchin "the new Mitch McConnell," likening the Democrat to the Senate minority leader and accusing him of standing in the way of the For The People Act, which passed the House along party lines earlier this year.
"I think we're going to leave the name-calling to others," White House press secretary Jen Psaki said at a Tuesday briefing. "The president considers Sen. Manchin a friend. He disagrees with him on voting rights and the bill that the senator has expressed he won't support."
"The president will continue to advocate for the importance of that moving forward and the reasons why that it's important and vital for our democracy, but we'll continue to seek ways we can work with Senator Manchin even while we have areas of disagreement," she added.
Psaki noted Manchin is proud of his independent streak representing a red state as a Democrat. She shrugged off the suggestion that criticisms of the senator were hurtful to him. . . .
Attacks by settlers in the West Bank have been on the rise for years—and a new Israeli government is no guarantee of change.
The day after Israel and Hamas agreed to a ceasefire, I was working in my garden, in Ramallah, in the West Bank, when I heard shooting near my home. Fear gripped me. My first thought was that the settlers from one of the three major settlements perched on the surrounding hills—Beit El, Dolev and Psagot—had attacked. Days earlier, my nephew had called and said that friends of his had been shot at by the settlers in a nearby valley, where I'm fond of hiking. He warned me not to go. Minutes later, I heard another round of shots—this time even closer to my house. I went inside, certain that armed settlers were marching through Ramallah's streets, firing at civilians. Later, I learned that the shooting was from Palestinians who were celebrating Hamas's claim of victory.
Two weeks later, there is a feeling of good riddance at the likely removal of Prime Minister Benjamin Netanyahu, but no reduction in the fear here. There is no rejoicing that Netanyahu would be replaced by the far-right politician Naftali Bennett, who served as the director general of Yesha, the umbrella organization of Jewish settlements in the West Bank. Bennett supports the annexation of much of the occupied territories, and he is committed to the rejection of a Palestinian state. His ascension is a disappointment for anyone who believed that this was a propitious time for peace negotiations between Israelis and Palestinians. It is a victory for the far-right settlers whom Palestinians fear. . . .
Forty years later, archaeologists look back at what the first Indiana Jones movie got wrong about their profession.
"That belongs in a museum!" Indiana Jones shouts at the man in the Panama hat, instantly creating the most memorable archaeological catch phrase of all time, though perhaps the competition isn't all that fierce.
Forty years after Raiders of the Lost Ark premiered to the public on June 12, 1981, the outsized shadow of Indy still looms large over the field he ostensibly represented. Over three movies in the 1980s, plus a prequel television series and a fourth film that came out in 2008, Harrison Ford's portrayal of Henry "Indiana" Jones, Jr., became indelibly tied to American archaeology. Despite it being set in the 1930s, an homage to the popcorn serials of the 1940s, and a cinematic blockbuster of the 1980s, Raiders of the Lost Ark is still influential to aspiring and veteran archaeologists alike. Even in the 21st century, several outdated myths about archaeological practice have endured thanks to the "Indiana Jones effect." And contemporary archaeologists, many of whom harbor a love/hate relationship with the films, would like to set the record straight. . . .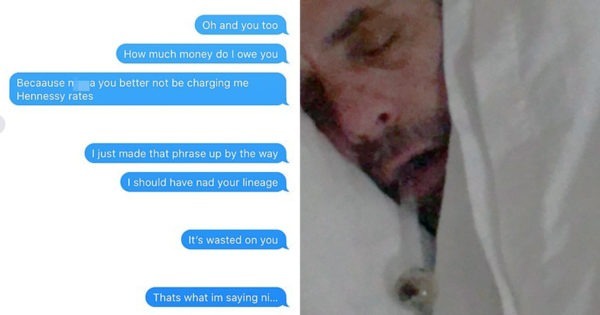 A new report from the Daily Mail revealed on Tuesday that President Joe Biden's erstwhile son Hunter had a habit of using African American Vernacular English, often referred to in urban communities as ebonics, while communicating via text with his lawyer, who is also white.
Hunter Biden repeatedly used the word "n***a" during the text exchanges, and also saved a meme where former President Barack obama grants Hunter's dad Joe permission to call him a "n***a."
"How much money do I owe you," Hunter asked attorney George Mesires during texts exchanged in December 2018. "Becaause [sic] n***a you better not be charging me Hennessey rates." Mesires replied, "That made me snarf my coffee," to which Hunter explained, "I just made that phrase up by the way" and, "I should have had your lineage."
Hunter went on to say "That's what im saying ni…" and tell Mesires, "I'm sorry for sexting you accidentally that was meant for another friend named Georgia." In response to the "sext" photo sent by Hunter, Mesires replied, "Why are you so tan?"
Other urban phraseology such as "OMG n***a" and "True dat n***a" also appears in the text exchanges, as well well as multiple messages by Hunter remarking on the size of his penis. "And I only love you because you're black," one message to Mesires declared.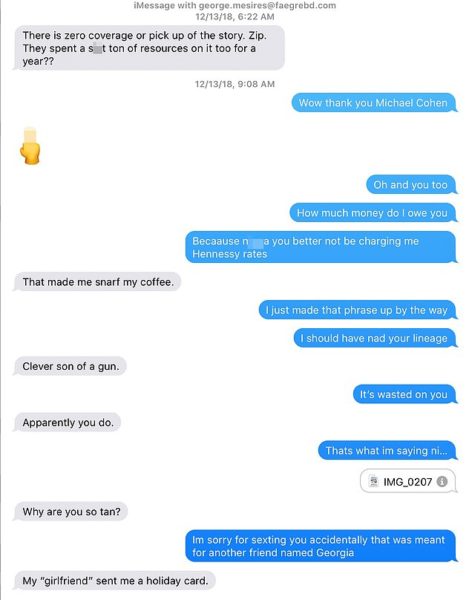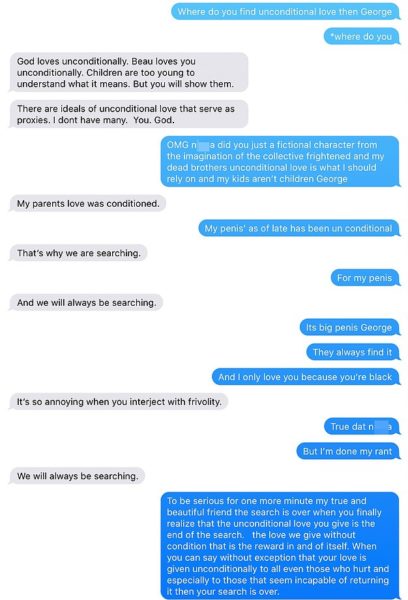 Hunter also saved a meme of his father Joe begging former President Barack Obama for permission to call the latter "my n***a," a request which Obama grants in the caption of the meme. "You my n***a, Barack," the memes quotes Joe as saying.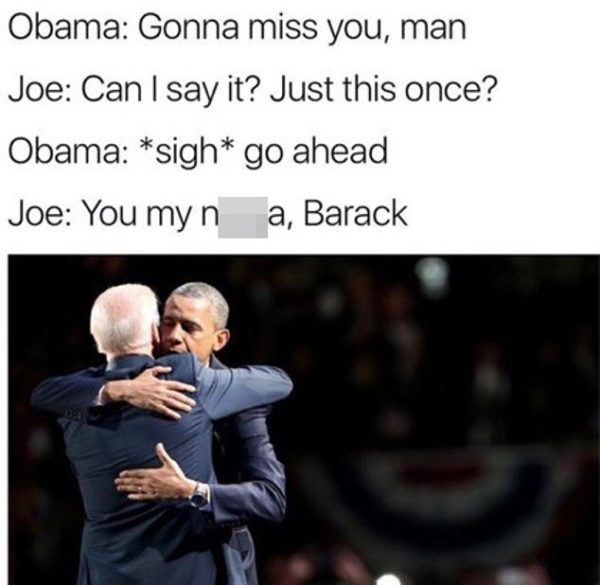 No indications were given as to why Hunter had the meme stored on his laptop, which reportedly also contained a pornographic video of an orgy involving a woman and multiple black men. Photos and videos of Hunter smoking crack and engaging in sex acts with various women went viral when they were released last year.
Breitbart News Editor-in-Chief Alex Marlow's "Breaking the News: Exposing the Establishment Media's Hidden Deals and Secret Corruption" details the tricks the media use to contort every story to fit their fixed agenda— also known as the rules to properly decipher the New York Times.