In my book, Body Counts, A Memoir of Politics, Sex, AIDS, and Survival, I recount how slow the federal government was in publicizing the use of Bactrim and other sulfa drugs to prevent PCP (the pneumonia that was then the leading killer of people with AIDS) in addition to its long-time and well-known use to treat PCP.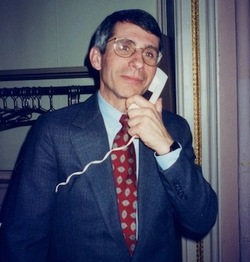 I point to Dr. Fauci in particular, because he was, and remains today, the head of the National Institutes of Allergy and Infectious Diseases and the head of the federal government's AIDS research program. In 1987, pioneering AIDS activist Michael Callen begged Fauci for help in promoting the use of Bactrim as PCP prophylaxis and issuing interim guidelines urging physicians to prophylax those patients deemed at high risk for PCP.
"So what actually happened is that Michael came to me and said you know there is this preliminary activity and some small trials that Bactrim works," Fauci said. "Would you come out and make a guideline to say it should be used by everybody. And I said 'Michael I can't do that but what I can do is help design and make sure that the grantees that we fund do a clinical trial in Bactrim to prove or not that it was safe and effective,'" he said. "But I didn't blow him off and say I don't want to issue guidelines. The fact is that's neither within my purview nor within the responsibility or authority I have to issue guidelines."
Whether Fauci personally had this authority or not isn't the point. His excuse would be laughable if it wasn't so tragic; he was constantly traveling and speaking to the media and opining about everything related to AIDS research and treatment. In Arthur Kahn's book, Winter Wars, Larry Kramer pointed out that to get an appointment with Fauci, one didn't call his secretary but his press officers, "who book [his] talks and interviews… like movie stars." He could easily have advocated awareness of the preventive treatment, as the de facto federal AIDS Czar, his influence was and is enormous.
Had Fauci listened to people with AIDS and the clinicians treating them, and responded accordingly, he would have saved thousands of lives. In the two years between 1987, when Callen met with Fauci and 1989, when the guidelines were ultimately issued, nearly 17,000 people with AIDS suffocated from PCP. Most of these people might have lived had Fauci responded appropriately.
Below is Foundational Information Concerning Covid-19 - Including The Unscientific & Deadly War Waged Against Therapuetics
Good, solid information is the best resource that the public can use. Primary sources, when possible and good discussions and studies when informative.
With So Many Vaccines Being Released & Distributed Information Can Become Overwhelming On What Is Actually Being Officially Promulgated. Primary Sources Are Always Best. A CDC FAQ Page Has Been Added & Is Updated Frequently.
MY BODY. MY CHOICE. . . . NOT!
"Conspiracy theorists" have always claimed that the end game of political and legal licentiousness in culture is not freedom, but bondage. The idea is that Progressives are de facto statists. They may be right. "If you refuse to be vaccinated, the state has the power to literally take you to a doctor's office and plunge a needle into your arm." ~ Alan Dershowitz, prominent Harvard Lawyer and Liberal Activist
BANNED CNN DR. HARVEY RISCH INTERVIEW
Here Is The Final 3 Minutes Banned By CNN, Twitter, Youtube and Facebook. CNN Falsely Claimed There Is No Evidence For Early Treatment of Covid-19 With Hydroxychloroquine (An Anti-Inflammatory and Ionophore), Falsely Claimed FDA Only Approves Drugs After Placebo Randomized Trials and Brow Beat Dr. Harvey Risch For Over 9 Minutes. Then Dr. Risch Finally Got Two Minutes To Give A Few Inconvenient Facts and This Powerful Statement: "The FDA has no data (of harm) on out-patient use and yet it put a black letter warning against it. That to me is just unconscionable. That they could do that and allow 45,000 deaths in the month of July alone because of blocking a medication they had no data (of harm) on."
Congressman Louie Gohmert's "East Texas Now" Interview 8 Days After Testing Positive and 6 Days After First Experiencing Covid-19 Symptoms. Here Is What The Best Doctors In the Country Prescribed For Him
Above is a condensed 7 minute version of Congressman Louie Gohmert's interview where he addresses the following:
HCQ, Z-pak, Zinc, Vitamin D3, Vitamin C, Steroid Nebulizer, His Covid-19 Symptoms, Who Originally recommended HCQ, How Politics and Money May Be Driving Coverage, His Experience Taking HCQ, Dr. Richard Bartlett, Dr. Anthony Fauci, Mask Use.
Dr. Richard Bartlett's push since March 2020 for steroid use in helping Covid-19 patients vindicated. See the original Interview and read a post interview article on the call to study steroid use and Reuters' announcement on September 18, 2020.
Doctor Richard Bartlett Interview
Searched for an alternative after Hydroxychloroquine was falsely demonized
Dr. Richard Bartlett's Credentials:
28 Years serving as medical doctor

Member of Texas' Health Disparity Task Force

Reappointed to task force for 7 years

Medical Expert for CBS affiliate in West Texas for 20 years

Weekly update on Covid-19 on Talk 550 AM in West Texas

Uses an alternative inhaled anti-inflammatory to treat Covid-19

His preference is Budesonide, an asthma medication

He uses Budesonide to stop the cytokine storm, Clarithromycin for walking pneumonia and Zinc to stop viral reproduction.

Like many doctors and researchers, searched for an alternative after Hydroxychloroquine was falsely demonized
Dr. Bartlett's push for steroid use in helping Covid-19 patients vindicated. Reuters reports the steroid Dexamethasone has been approved in the EU as an official tool in the Covid-19 fight.
Europe's healthcare regulator has endorsed using dexamethasone to treat COVID-19 patients with breathing difficulties, paving the way for the steroid to become the region's second approved treatment for the respiratory illness.
Click Here To Read The Full September 18, 2020 Reuters Article
JOE ROGAN
The Most Popular Podcaster In The World Discusses Why Hydroxychloroquine Is Confusing To The General Public
Dr. Harvey Risch's
Courageous Stance To Save Lives
Hydroxychloroquine Works
Dr. Anthony Cardillo
Los Angeles Medical Clinic Director
Hydroxychloroquine & Zinc
Banned ABC Interview
July 31, 2020
Covid-19 Congressional Testimony
Study That Hydroxychloroquine Is Dangerous Fully Retracted
Renowned Yale Professor, Medical Dr. Harvey Risch,
Professor of Epidemiology in the Department of Epidemiology and Public Health at the Yale School of Public Health and Yale School of Medicine.
***Hyrodoxychloriquine Given Early As Out-Patient and Prophylactic Could Save 75,000 to 100,000 Lives***
MSNBC Shocked When Their Own Medical Experts Say They Absolutely Believe Schools Should Re-open For Their Own Children's Sake
Dr. Todaro Whose Research Led To Lancet Withdrawing Two Studies Claims Randomized Control Studies Showing Hydroxychloroquine Ineffective Is Misleading

Dr. James Todaro points out the problems with the studies claiming HCQ is ineffective as they treated late stage Covid-19, not early stage, as indicated by clinicians. A particularly troubling example, he points out the numerous flaws in the Minnesota study. 

Click Here

Lancet Fully RETRACTS SECOND Study With New Claim Hydroxychloroquine Cannot Be Judged As Good Or Bad - 'Who Can Really Know' Was The Claim?

Hydroxychloroquine is a chemical compound that's been used safely for over 65 years. Yet somehow, it's become the 'whipping boy'. After publishing false claims HCQ is dangerous in general, they try to split the baby and fail.

Click Here

4,500 Mumbai Police Officers - NO DEATHS ON HYDROXYCHLOROQUINE

FDA's claim in May that Hydroxychloroquine was dangerous based on a false study frightened more than half of 10,000 Mumbai officers from taking hydroxychloroquine as prescribed. No deaths or hospitalizations on HCQ from Covid-19. Officers who refused to take HCQ experienced hospitalizations and death from Covid-19.

Click Here
What To Expect On Great Bloggers
Good, solid information is the best resource that the public can use. Primary sources, when possible and good discussions and studies when informative.
Knowing the numbers is important to keep a level head in times of crisis and panic. John Hopkins' engineers seem to have the best grasp on what is going on with a detailed map of cases worldwide, including deaths and break downs by country.
U.S. Surgeon General, Jerome M. Adams, M.D., M.P.H
"Everyone needs to act as if they have the virus right now. . ." ~ U.S. Surgeon General, Jerome M. Adams, M.D., M.P.H.
Our friends and family are at risk. Both young and old. This is a respiratory disease that appears to be more contagious than the common flu. As such, even if you experience no symptoms, you are at risk of endangering the innocent in our society including those that have lived exemplary lives in service to us all. Most of our veterans are in the vulnerable population, as well as our parents and grandparents. This is why we are trying to stop the spread. Even if the overall death rate is lower than we currently believe, we know the rate of fatality amongst the most vulnerable in our society is still very high.
The vulnerable are the elderly with underlying health conditions, as well as the general population with conditions like heart disease, respiratory illnesses, liver disease and diabetes. The hope is that this will be temporary and as short as possible.