In my book, Body Counts, A Memoir of Politics, Sex, AIDS, and Survival, I recount how slow the federal government was in publicizing the use of Bactrim and other sulfa drugs to prevent PCP (the pneumonia that was then the leading killer of people with AIDS) in addition to its long-time and well-known use to treat PCP.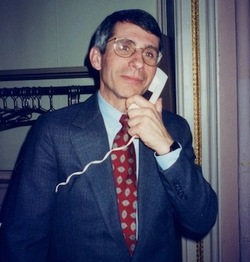 I point to Dr. Fauci in particular, because he was, and remains today, the head of the National Institutes of Allergy and Infectious Diseases and the head of the federal government's AIDS research program. In 1987, pioneering AIDS activist Michael Callen begged Fauci for help in promoting the use of Bactrim as PCP prophylaxis and issuing interim guidelines urging physicians to prophylax those patients deemed at high risk for PCP.
"So what actually happened is that Michael came to me and said you know there is this preliminary activity and some small trials that Bactrim works," Fauci said. "Would you come out and make a guideline to say it should be used by everybody. And I said 'Michael I can't do that but what I can do is help design and make sure that the grantees that we fund do a clinical trial in Bactrim to prove or not that it was safe and effective,'" he said. "But I didn't blow him off and say I don't want to issue guidelines. The fact is that's neither within my purview nor within the responsibility or authority I have to issue guidelines."
Whether Fauci personally had this authority or not isn't the point. His excuse would be laughable if it wasn't so tragic; he was constantly traveling and speaking to the media and opining about everything related to AIDS research and treatment. In Arthur Kahn's book, Winter Wars, Larry Kramer pointed out that to get an appointment with Fauci, one didn't call his secretary but his press officers, "who book [his] talks and interviews… like movie stars." He could easily have advocated awareness of the preventive treatment, as the de facto federal AIDS Czar, his influence was and is enormous.
Had Fauci listened to people with AIDS and the clinicians treating them, and responded accordingly, he would have saved thousands of lives. In the two years between 1987, when Callen met with Fauci and 1989, when the guidelines were ultimately issued, nearly 17,000 people with AIDS suffocated from PCP. Most of these people might have lived had Fauci responded appropriately.